Making Future in Mind a Reality event, 14 November 2016
The 'Making Future in Mind a Reality for Children and Young People in the West Midlands' event was held at the Bescot Stadium in Walsall on Monday 14 November.
Attendance was excellent and we were delighted to welcome over 150 delegates both from across the West Midlands and from further afield, including several members of the national team. The event brought together a wide range of individuals, including young people, parents, commissioners, clinicians, teachers, social care, service managers and many more.
The day was fast paced and packed with information and opportunities to network with others.
Below are details of all the presentations from the day. Copies of these presentations are available upon request by emailing: england.mhdementianetwork@nhs.net
Welcome and Introductions: Dr Sharon Binyon
National Overview: Kathryn Pugh
The West Midlands Perspective – Themes Challenges and Best Practice from the LTPs: Jane Sedgewick
Why are we really here? – A Young Person's Perspective: Toby Upson
Peer review visits – West Midlands Overview: Jane Eminson
LTP Assurance: Deb Critchley & Simon Frampton
CYP IAPT: Anne O'Herlihy
Measuring and Monitoring Children and Young People's Mental Wellbeing – A Toolkit for Schools and Colleges: Jess Deighton
Elevator pitches:
During the afternoon session, we wanted to give delegates the chance to have an overview of a number of projects and initiatives happening around the West Midlands. Each presenter was asked to do a 'Pecha Kucha' style presentation lasting no longer than 5 minutes to entice delegates to their table top discussion, which was an interactive session that followed the presentations or 'elevator pitches', as they were also called. These sessions were well received, with the only complaints being that delegates would have like longer to explore all of the ideas! Thank you to everyone who contributed to this fast paced (a bit chaotic!) and fun session. Although there was a light hearted feel, the messages and information imparted were serious and made a huge impact. Below are details of all the presentations from the day. Copies of these presentations are available upon request by emailing: england.mhdementianetwork@nhs.net.
Adverse Childhood Experiences: Jacqui Reid-Blackwood
Early Intervention and Prevention
Eating Disorders
Evaluating Support for Mental Health and Wellbeing in Schools
Involving Children and Young People Effectively in Decision Making
Making Transformational Change
Multi-Agency Approach to Engaging Stakeholders
Perinatal Mental Health
Schools Link Pilot
Transforming Care Programme
West Midlands Academic Health Science Network
CYP MH Workforce
Fantastic graphic artist Beci Ward helped to capture the day. A slideshow of her illustrations can be found below and are interspersed throughout the event report. If you would be interested in having any of the original artwork on display in your service, please contact Lisa Hayes.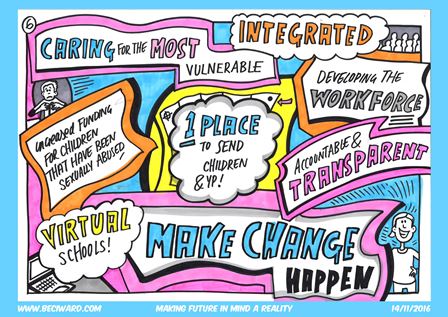 During the last session of the day, delegates were invited to sit in Local Transformation Plan area groups and to discuss the issues, challenges, solutions and opportunities that exist within their area. These were recorded on a template for each area and these were then turned into pledges of action.