"Between January and September 2015, 50 vanguards were selected to take a lead on the development of new care models which will act as the blueprints for the NHS moving forward and the inspiration to the rest of the health and care system.
The new care model vanguards are delivering real change for patients and staff. Working with clinicians and the people who use their services, they are developing a 'blueprint' for the future of NHS and care services across England. They're being led locally, but with national support to help them move forward at pace and to unlock barriers that get in their way."
Samantha Jones, former Director – New Care Models Programme
What this means for patients
The vanguards are improving the care received by millions of people across England. Through the new care models programme, complete redesign of whole health and care systems are being considered. This means fewer trips to hospitals with cancer and dementia specialists holding clinics in local surgeries, having one point of call for family doctors, community nurses, social and mental health services, or access to blood tests, dialysis or even chemotherapy closer to home.
They are also joining up the often confusing array of A&E, GP out of hours, minor injuries clinics, ambulance services and 111 so that patients know where they can get urgent help easily and effectively, seven days a week.
50 vanguards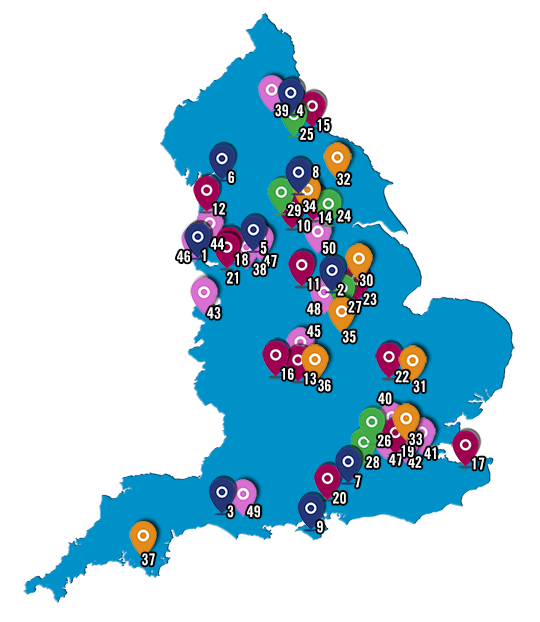 In addition to the support outlined in the support package, the 50 vanguards were allocated total funding of almost £133 million in 2015/16, £112 million in 2016/17 and £101 million for 2017/18.
Further information
You can find out more about the programme by looking at the frequently asked questions. For more information about the new care models programme, email england.newcaremodels@nhs.net. You can also subscribe to our monthly newsletter or join the conversation on Twitter by following: @NHSEngland or by using the hashtag: #futureNHS.