Look out for others and help your community – support the NHS and each other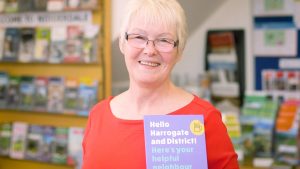 When the NHS, Local Government, communities and organisations work together, we can help people to live healthier lives for longer. This in turn helps them to stay out of hospital when they do not need to be there. Working with, and in, communities helps us to provide services that are more responsive to local people's needs.
During the COVID-19 pandemic, we have seen communities pull together, take care of each other and support vulnerable people. Now more than ever, we have felt closer to our neighbours and community spirit has flourished. On this year's NHS birthday, we want to celebrate our communities. We want to recognise everything they have done together to keep people safe and well; and hope that we can build on the strengths of people and communities to bring long-lasting changes.
There are many ways you can support your community – big and small. Whether it's getting involved in a regular volunteering role to organising shopping for those who struggle to get out, or checking in on a neighbour or friend to see how they are doing and if they need anything.
Try these links for opportunities to volunteer near where you live:
Share your stories and commitments
We want you to share your stories and personal commitments about how you have been helping support your community during the COVID-19 pandemic to inspire and motivate others.
We also want to hear about someone you want to thank from your neighbourhood, town or village, who has helped create and sustain a community spirit that is supporting people during these challenging times. This can be big or small. Something very personal to you or that has benefited your community more widely.
The best way to do this is via social media using #ThankYouTogether and #NHSBirthday.
Here are some local examples to inspire you: