Getting active and living healthier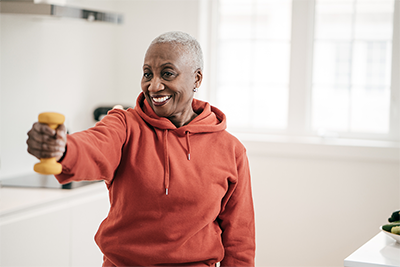 Many people have found being active very helpful for their general wellbeing during the pandemic.
It's shown to boost energy levels, lift your mood and lead to better sleep, all of which helps us to cope with stressful circumstances.
And in the longer term it can also reduce your risk of serious conditions like Type 2 diabetes, heart disease, stroke and cancer.
Being active can also help reduce the symptoms of arthritis and musculoskeletal conditions which affect the joints, bones and muscles including joint and back pain and stiffness.
Whether you have been more active in the past few months, or found it more of a challenge, it remains very important to find ways to keep moving throughout the day.
Walking, running or cycling can make a big difference, but so too can simple activities around the home and garden to keep us active and maintain our strength.
There are many easy ways to get active and live healthier and the NHS and its partners have lots of tools to support you.
Here's just some of them to help get you started or give you new ideas:
Overall advice
Being active
Healthy diet and weight
Eatwell guide: This guide shows how much of what we eat overall should come from each food group to achieve a healthy, balanced diet.
NHS weight loss plan: This free 12-week diet and exercise plan is designed to help you lose weight safely – and keep it off.
Mental health
Alcohol
Alcohol support: Find out the health benefits of reducing your alcohol intake and get tips on cutting down.
Smoking
Quit smoking: Stopping smoking is one of the best things you'll ever do for your health. Get started with free expert support, stop smoking aids, tools and practical tips.
Extra support for those at risk of Type 2 diabetes
If you are at risk of Type 2 diabetes then you may be eligible for extra support from the Healthier You Diabetes Prevention Programme. Healthier You is a nine to 12-month programme to support you to make healthy lifestyle changes. The programme is currently being delivered remotely online or through digital apps.
Type 2 diabetes risk factors are:
Your age – the older you are, the more at risk you are. However, those from the ethnic groups outlined below are at risk at a younger age.
Your family history – you're two to six times more likely to get Type 2 diabetes if you have a parent, brother, sister or child with diabetes.
Your ethnicity – you're more likely to get Type 2 diabetes if you're Chinese, South Asian, African-Caribbean or Black-African.
Your weight – you're more at risk if you're overweight, especially if you're large around the middle.
Your blood pressure – you're more at risk if you've ever had high blood pressure.
Check your risk using the Diabetes UK Know Your Risk tool, and and if you are at risk speak to your GP Practice.
Share your stories and goals
We want you to share your stories and personal commitments about how you are trying to Live Well during the COVID-19 pandemic to inspire and motivate others. That might be  about keeping up with being more active, starting something new or a goal that you have set yourself to achieve.
The easiest way to do that is to share it on social media using #ThankYouTogether and #NHSBirthday.
Click on the links below to read about some people's stories and experiences. You'll find lots more in the resources above too: