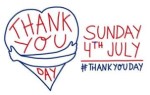 On Sunday 4 July, the Together coalition – a small non-profit organisation dedicated to bringing people together – will lead a national day of thanks and recognition to celebrate the incredible work of our NHS staff, as well as all key workers and others in our communities who have helped us through this challenging year.
According to new polling by ICM 16.3 million British people expect to mark the day in their communities. This would make the day the biggest mass participation event since the Queen's Diamond Jubilee in 2012.
The idea of Thank You Day came from a grassroots campaign to hold the country's biggest ever thank you party in our local communities as a way of thanking each other and building on the community spirit that so many felt during lockdown.
The campaign has won huge support from hundreds of organisations ranging from the NHS to the Scouts and from high profile individuals including Gary Lineker, Michael Sheen, Dame Judi Dench, Raheem Sterling and many more.
In this video, May Parsons, the nurse who gave the first COVID-19 vaccine to Maggie Keenan, thanks NHS staff and volunteers for the fantastic role they have played over the last year and encourages everyone to support Thank You Day.
Members of the public are being encouraged to mark the day in numerous different ways, from picnics to barbecues, outdoor parties to drinks, while of course sticking to COVID-19 guidelines.
Organisations are also putting on events throughout the day including:
9am: Join in an hour's exercise across our country's green spaces, followed by an NCT picnic brunch to say thank you.
10am: Power hour with Keep Britain Tidy – an hour's tidy up of parks and green spaces.
1pm: The Big Lunch are organising small street parties and picnics to get neighbours together.
3pm: Led by Together with Music, hundreds of community choirs, schools and care homes plan to sing together outside care homes and hospitals to connect and thank one another for everything they have given over the past year.
5pm: Cheers for volunteers, led by Ross Kemp and the Royal Voluntary Service, is encouraging people to raise a glass with their neighbours.
7pm: BB-Thank-Q: The country's biggest ever barbecue with neighbours, led by Levi Roots, the Scouts and the National Citizens Service.
School children are joining in the day by filling in a huge national thank you card designed by author and illustrator Charlie Mackesy. The card will be unveiled at Wimbledon on opening day and will be on display at the People's History Museum in Manchester.
Find out how you can get involved on the Thank You Day website.