Help us arrange a tea break across the nation on the NHS's birthday!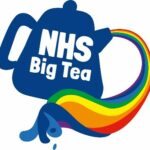 On Monday 5 July, join NHS Charities Together and take a tea break like no other.
The NHS Big Tea is back, and this year will be a chance for communities to come together for a national outpouring of love to thank NHS staff and each other for the huge role they have played over the last year. At 3pm on the NHS's birthday, we'll be stopping to share our heartfelt gratitude to every clinician, nurse, support worker, hospital porter and paramedic who has put themselves on the line this year to keep us and our loved ones safe.
When we last held the NHS Big Tea in 2019 there were hundreds of events across the UK. This year help us to break the record, by holding either a virtual or face-to-face event and raising a mug in collective thanks at 3pm. Events can be as big or as small as you like, but please do bear in mind the latest government guidance when making your plans.
You can register today to host an event on the NHS Charities Together website and you'll get access to a variety of resources to help you plan your tea party.
Over the last 14 months, thanks to the amazing support of the public for our health and care sector, NHS Charities Together has been able to make a huge difference. Working with and through our member NHS charities we have made an extra £125 million available for additional resources for the health and wellbeing of staff and patients.