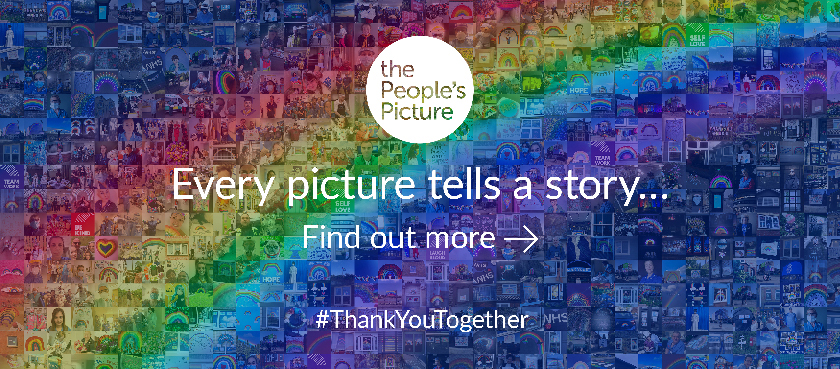 'Rainbows for the NHS' is a giant interactive 'mosaic of hope', made up of thousands of pictures and stories, submitted to the People's Picture during the COVID-19 pandemic. You can explore the mosaic and the many lives of the NHS, key workers, carers and people from across the country.
The People's Picture launched the project at London Piccadilly Lights on Monday 22 June 2020 and called out for people to submit their pictures and stories. Landsec and Ocean Outdoor donated the iconic screen as part of their community engagement programme which has continued throughout the coronavirus pandemic.
After collecting thousands of photos and stories, the final artwork has become a giant interactive online mosaic for the 72nd birthday of the NHS and will be extended nationally as multiple artworks in partnership with Landsec. The People's Picture hopes it will become a historic legacy piece for the NHS.
Previous photo mosaic tributes by British artist Helen Marshall of The People's Picture have ranged from The Face of WW1 the centenary of the outbreak of World War One and The People's Monarch celebrating Queen Elizabeth's Diamond Jubilee, to The Face of Suffrage marking the 100th anniversary of British women getting the vote and The People's Moon giant lunar art across Times Square and the Kennedy Space Centre.
Delve into the stories of thousands of lives at the NHS, key workers and carers and those in lockdown.
As an artist I was really moved by the collective creative response of the nation to the pandemic, and like everybody else I wanted to do something. I particularly wanted the NHS staff, key workers and carers stories to be highlighted. By collecting thousands of photos, videos and stories, I have created one giant interactive rainbow mosaic during my time in lockdown.

Helen Marshall, Founder and Artistic Director from The People's Picture
This an inclusive and safe way for the nation to connect and thank our NHS, key workers and carers through art. It's wonderful to have so many images and people represented; each individual story of hope and testament to this important moment in history.

Martin Machray, joint chief nurse for the NHS in London
---
Featured stories