Porter, University Hospitals Bristol and Weston NHS Foundation Trust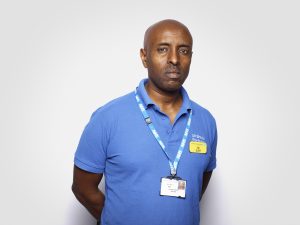 I honestly couldn't tell you how many miles I must have walked around my hospital helping patients, transferring medicines or carrying specialist equipment. As a porter, it's my job to make sure the right people get to the right place at the right time. Every day is different, and you are never in one place for long.
All the excitement and adrenaline mean it's hard to switch off. Even at the weekends I like to keep active and ride my bike – but in the back of my head I'm always thinking 'when can I get back to work and help the team?'
My wife is a carer and my daughter is a nurse, so you could definitely say looking after people runs in the family! They are the most important people in my life. We are fortunate to have and to be able to understand each other. Having someone to talk to at the end of the day can be great motivation to carry on.
Even though I work 12-hour shifts the day goes so fast. My favourite part is talking to patients and helping them feel at home. Which is even more important in this new world we live in. All our jobs have become more difficult and we have to take extra special care to look after our patients, ourselves and each other. Hospitals can be an intimidating place to come to even in calmer times, so having someone to navigate it alongside you can bring a lot of comfort.
Sometimes it can feel like everything has changed and gotten much harder. It's a difficult time but we are pulling together as a team. Everyone is pushing themselves and doing an amazing job. I couldn't be prouder of them all.
That's probably why, even after 15 years I still love and would recommend my job. The NHS has a way of attracting so many different people from all walks of life – and make them all feel they belong.
I feel so extremely proud to have been photographed on behalf of my team and to represent the role of the porter across the NHS.