District Nurse, Midlands Partnership NHS Foundation Trust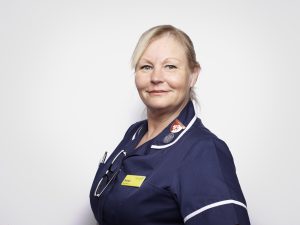 My favourite thing on my day off was always having a cuppa and a good catch up with mum. As we can't go out right now, I go around to my parents' bungalow and mum puts a cup of coffee in the middle of the driveway. I sit on the wall and she sits on a chair in the drive and we shout at each other because we're so far apart. But it's so good to chat.
I'm not a hero. I'm a nurse just trying to do the best I can. I was inspired by an aunty but I also think being a nurse is ingrained in you. I remember I used to bandage our dog with toilet rolls to practice when I was little. There were barely any left for the bathroom.
And I've found myself looking after another lovely dog recently. One of my patients didn't want to go into hospital because he had no-one to look after his little Jack Russell. So, I looked after her and sent lots of pictures and updates (I resisted the toilet roll game). I really bonded with her and I felt mixed emotions when the time came to send her home but that's where she was meant to be, and I was so pleased that my patient was well again. It was nice to have some company at home for a while, as I live alone. But everybody is so supportive. Sometimes it's just the little things. I came home from work the other day and someone had put a chocolate bar through my letter box.
I try and look after my colleagues too and help them feel positive and valued, especially the Covid-19 pandemic.  I recently worked with a local video producer and we got colleagues to sing a version of This is Me from the Greatest Showman.  I really wanted to celebrate International Nurses Day to promote our wonderful profession and had help from a lovely local school who made a video to say thank you to the NHS, and I gave all my senior team key rings.
I'm sad this year that I can't volunteer on a trip to Lourdes to provide nursing care to pilgrims but I'm hoping at the end of all this, the world will be a kinder place.
When I heard I'd been chosen to take part in the photo shoot I was gobsmacked. It made me giggle because I'm 53 and not much of a supermodel. I told Rankin: 'If you don't make me look like Kate Moss, I'll be having words with you.'