COVID-19 Ward Cleaner, Leighton Hospital, Crewe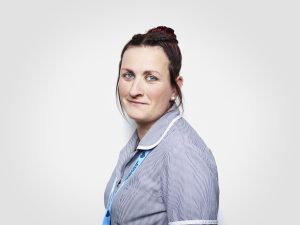 I'm pleased, more than anything, that as part of my job I can be a friendly face for patients staying in the hospital. Growing up in Crewe made me realise the importance of playing a part in my community. In this situation we can't allow as many visitors and not everyone has the technology to keep in touch with loved ones, so I try to help by bringing patients a little piece of the outside world. I've been cycling a lot during the pandemic, so I get out on my bike and whizz around to pick things up for patients – even if it's just a picture to have by their bed. It means so much for friends and family to feel close, even when they can't be.
I've always liked to talk to the patients and find out more about them. I'll always remember a mum of two who was on the COVID ward. She didn't want her kids to see her looking so unwell. I've got two sons myself, and I could only imagine how she felt. So, I brought their photos and cards to her instead. After she became better, she said to me that seeing their faces helped her survive her hardest days, giving her something to live for.
We've sadly lost a dear colleague to coronavirus at Leighton. Brian was a porter, who had been working there for years. I remember walking onto the ward one day, seeing him and saying, 'Brian, what are you doing up that end?'. We still managed to share a joke and a smile together, but it was really hard. After he passed, the funeral directors brought the car around and we all stood out for him and gathered memories to share with his wife. Our team has always been so great to one another, but Brian passing has made us closer than ever.
It sounds silly but after a hard day, it's TikTok that gets me laughing and smiling. I go on there, do a fun video for 15 minutes, and then I come off and think, 'Right, I better get into parenting mode, do the tea, do the housework and look after my kids now.' But that little bit of fun really keeps me going."
I felt so proud to have my photograph taken on behalf of Leighton Hospital, and to represent Crewe. We are one big team here and everyone is playing their part and I feel I'm just doing my job as best I can. The night before I was like a kid on Christmas Eve and when I was there it was a real wow moment.