ICU Consultant, East Cheshire NHS Trust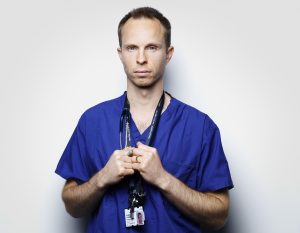 I've had COVID-19. One day I felt that I was resisting a cough and by the evening I was coughing consistently. I felt dreadful for ten days and even after most of the symptoms were over, I felt really fatigued. While receiving a test which confirms you are positive can be intimidating, it was also what freed me to safely plan how to get back to work.
I'm a consultant in anaesthetics and intensive care medicine. As you'd imagine, there have been huge changes since the start of the pandemic. East Cheshire NHS Trust is a small hospital trust and it's been a big challenge to accommodate the surge in patients. Luckily, one advantage of working in a smaller hospital is that we are a tight knit team, so everyone has banded together, mobilised at speed and made it work.
We're living through some tough times, but they certainly make me thankful for my military training in the Army Reserve. One figure that I've always looked up to is Capt Noel Chavasse; a military doctor who is one of only three people to receive a double Victoria Cross for his heroism in the First World War. His story is so inspiring and resonates with me as he was also in the territorial army, a proud Liverpudlian and was keen on sport (although he was also an Olympian which is a level I've not quite hit).
Capt Chavasse's story sets a high bar for service and sacrifice: He died of his injuries saving wounded men at Passchendaele. I was privileged enough to visit his grave at Ypres a few years ago – it was a really special moment. He's a tough act to follow, but the everyday bravery I've seen from my colleagues during this outbreak has been just as incredible. I am not in a high-risk group myself, but I know others who are and they have found a way to play their part. I think every one of them is just as much of a hero.
Outside of work, my family mean the world to me. I live with my wife and two boys who are aged 6 and 4. We are lucky that they have still been able to go to school during the pandemic, but sometimes I joke that it can feel like a 13 hour shift in intensive care followed by another shift at home.
It was a total surprise to be chosen and I was never going to turn it down- something like this doesn't happen every day! Rankin took the time to find out about me beforehand and I really enjoyed the whole experience.