Chief Information Officer, Barts Health NHS Trust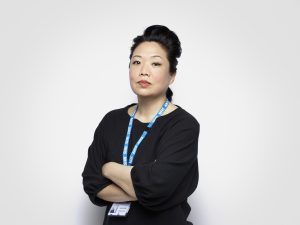 I'm originally from South Korea, which is the world's largest exporter of babies and I'm one of them. I was placed in an orphanage until I was adopted by a family on the west coast of the US. As one of six children, we didn't have lots of money and relied on elements of social services to help, and I always knew I would try a job in the public sector for some length of time when I got older.
Initially I worked in finance and then moved to the UK after my brother died from muscular dystrophy – so I'm no stranger to healthcare settings. It was time to rethink what I wanted to do, and so I switched to healthcare IT before being approached to work in the NHS. I embrace and feel a cultural identity with being Korean, and deliberately chose to work in north east London because of the high ethnic diversity there, which I find comforting.
The NHS is the hardest job I have ever done. COVID-19 crept up on us, and our earliest challenge was to support staff remote working. You may have heard of the challenges with accessing PPE but trying to get laptops was equally challenging. When the outbreak started 1,000 out of 20,000 staff were able to work remotely, but after six weeks we had been able to increase this to over 5,000 of our staff.
When I was asked to support IT for the NHS Nightingale Hospital London, I didn't hesitate because I instantly knew my team could do it. We had a meeting at 8am that morning, and by 10pm the team had an articulated lorry dropping off all the network kit. We were about to replace the network in two of our hospitals, so we emptied our warehouse of that kit and asked all our suppliers to send teams to help. Within five days, we had set up a new secure network and connected devices from scratch to support the first group of patients – over 26km of cable, 500 switches, hundreds of PCs and more.
It doesn't feel like we ever stood back and truly reflected on what we had done; we were just going flat out for several weeks – no weekends, no breaks and no leave. The NHS is the best thing about the UK, hands down. Everyone pulls together in times like this and it's the one place people know they can rely on for help, no matter what their status or background, because that's what is was created for and that's what we do.
I was very surprised and flattered to be chosen – to be at the forefront of the coronavirus story was not something I was expecting. I feel privileged to be representing my profession, as working for the NHS provides such a rewarding career. I feel very strongly that we set a good example and help get messages into schools with the younger generations who are experiencing this and run grass root campaigns to recruit and show them what is possible.