Paramedic, South Central Ambulance Service NHS Foundation Trust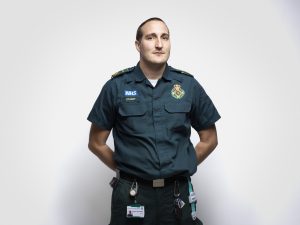 Losing my Dad to oesophageal cancer in 2008 was a turning point. I remember a paramedic came to the house – the way he treated my Dad was so kind. He let my Dad walk out of the house as a proud man, how he wanted to, not on a stretcher. I knew then that this is what I wanted to do and it's what pushed me to be who I am today.
I've always wanted to help the community. For 12 years I worked as a lifeguard. When I was on holiday in Greece in 2012, a young man almost drowned in the pool. I managed to bring him back through mouth-to-mouth resuscitation and CPR. Meeting him again two years later at the Pride of Reading awards was a special moment for me. I am proud that I was able to use my skills to keep him alive.
Becoming a paramedic wasn't easy for me, I fought hard to self-fund my course and get the grades I needed to join the ambulance service. I finally became a fully qualified paramedic in April this year. Now, every time I'm called out to a patient who has cancer, I remember the paramedic who treated my dad and I try to treat them as well as he treated my dad that day.
The COVID-19 pandemic has been a tough time for any new paramedic. We are making decisions that are very hard for us on the road. It has been mentally draining, but I've never felt that I didn't want to go in the next day. I am lucky to be part of the trust's team at this time – there is always someone to support us at the end of the phone. The respect too that we've received from the community during the pandemic has been amazing and so good for staff morale.
I really enjoy working as a paramedic for the NHS. I care about people, treating them with respect and making them feel wanted.  I love my job to be honest and I couldn't do anything else.
I was overwhelmed when I was nominated for this. Does everyone really want to see my face?
I feel privileged to work for the NHS and to represent my colleagues who are going through a tough time on the road.