We would like to say a very big thank you to all of the organisations and individuals who have supported the NHS, our NHS People and patients over the last few months. Whilst it's not possible to mention everyone, here are just a few examples of the many people we want to show our appreciation to.
Thank you to The Prince of Wales for marking our NHS Birthday with a heartfelt video message paying tribute to our NHS People and thanking everyone for all they have done and the part they have played during the COVID-19 pandemic.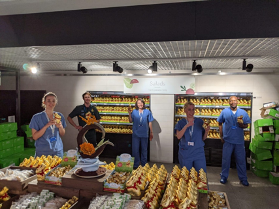 Thank you to all those who donated essential items such as food and toiletries which have been a great help to our NHS People who were unable to easily get to the shops and provided a welcome boost during long and challenging shifts.  Patients were also very grateful to receive donations of toiletries and clothing which have allowed them to stay comfortable, especially whilst hospital visiting had to be suspended.
We would also like to say a heartfelt thank you to all those who have raised a phenomenal amount for NHS Charities Together and their local NHS hospitals or charities, especially Captain Sir Thomas Moore, for his record-breaking fundraising efforts when he walked 100 lengths of his garden before his 100th birthday. The money raised is being used right now by NHS charities to support staff, volunteers and patients as they combat the virus – providing staff with nutritious food and drink and somewhere comfortable where they can take a break; use of electronic-tablets so patients, staff and volunteers can stay in contact with loved ones; and counselling support for staff and volunteers to protect their mental health and help them process what they are dealing with. It will also help vital partnerships outside hospitals, such as hospices, community healthcare and social care, making sure patients returning home have access to the care they need to recover.  In the longer term, the money raised will also fund programmes to help staff and families recover fully once the crisis has abated, reducing the long-term impact on them and the people they care about.
Thanks to businesses large and small who also came out in force to help.  To the supermarkets who created dedicated times for our NHS people to shop and companies who provided NHS staff offers across a wide range of products and services including food, transport and accommodation – it's been greatly appreciated.  Thank you to all the businesses which donated products to the NHS and to those companies which even changed production completely to make essential items such as hand sanitiser and PPE.
The sense of community, support and collective effort demonstrated throughout the UK has been extraordinary. Due to donations and partnerships with charitable organisation over 100,000 free hot and chilled meals were delivered to staff at trusts across England. Millions of free food items including cereals, snacks, energy bars and Easter eggs were distributed, as well as millions of drinks. In addition, NHS trusts were offered free transport, accommodation and childcare solutions for their staff. Our NHS people benefited from hundreds of thousands of donated toiletries, bags, water bottles, chewing gum as well as numerous other items to support their wellbeing. We also know that at a local level trusts were overwhelmed by the support and similar offers from their local communities. Receiving all the offers of help and donations, as well as the public displays of support, has been a huge lift all our NHS people.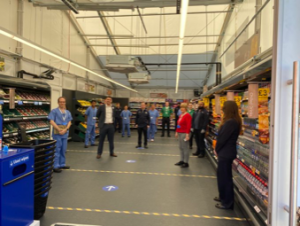 We are also extremely grateful to our colleagues in the armed forces and other emergency services who supported the NHS in many different ways to respond to the pandemic – from helping to build the NHS Nightingale Hospitals to supporting our ambulance services.
Thanks also to our fellow key workers – from bus drivers and refuse collectors to social care, supermarket staff and teachers – who kept the country running and, of course, all those who stopped the spread of the virus by following the expert advice, washing their hands and staying home to save lives.
#Thankyoutogether – Sunday 5 July at 5pm
On Sunday 5 July, the day the NHS was founded, the whole country is invited to come together at 5pm to applaud all those who have been helping us through the pandemic and recognise the vital community connections that continue to support us all
In the run-up to 5 July you can also say a personal thank you to someone who matters to you by downloading a thank you poster to colour in, add the name of the person you'd like to say thank  you to and display it in your window.
An NHS birthday thank you to all our keyworkers
In a challenging year for both the nation and the health service, GP and Medical Director for Primary Care Dr Nikki Kanani takes a moment to thank all those who have kept the country running throughout the pandemic. Dr Kanani pays special thanks to all those in primary care who have gone above and beyond to keep our patients and our staff safe as we adapt to a new world.