North Cumbria Health and Care System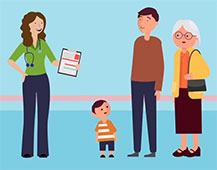 The North Cumbria Health and Care System includes the following partners working together with Cumbria County Council and the third sector:
Cumbria Partnership NHS Foundation Trust (mental health and community services including community hospitals)
NHS North Cumbria Clinical Commissioning Group
North Cumbria University Hospitals NHS Trust (the main hospitals are Cumberland Infirmary in Carlisle and West Cumberland Hospital in Whitehaven)
39 general practices supporting eight integrated care communities
North West Ambulance Service.
North Cumbria is a large and remote rural area with some communities facing a journey of more than two hours to reach a service. There is a pocket of large urban communities on the west coast with high levels of deprivation. The area has been divided into eight integrated care communities (ICCs) based on groups of GP practices and their patients. By understanding the challenges that each area faces, it is hoped that the community can work together with health and care organisations to improve the health and wellbeing of local people.
The area's population of 3 million faces a number of health challenges, including a 'super-aging' population and reducing numbers of people of working age. By 2020, nearly 25 per cent of the Cumbrian population will be aged over 65, with the associated challenges of a likely increase in demand for services and more people living with dementia.
The vision
The North Cumbria partners want to build a new integrated health and care system together, using their collective capabilities to create a healthier, happier population.
They are building teams based on 'place' (location) and pathway, involving communities as part of the local leadership and delivery team, and redesigning the health system to make it more effective, with integrated care communities delivering more care outside hospital and supporting people to manage their health to stay at home. They are working with the community to find ways to sustain 'fragile' services that are under pressure including maternity and paediatrics.
The aim is to keep people living healthily and independently and feeling in control of their own health and wellbeing. When people need help from the health and care system it should be as easy as possible to access and provide an experience tailored to individual needs.
What this means for local people
Patients will be provided with care in a way that is in their best interests, through teams across health and care services working together and alongside third sector colleagues, rather than being constrained by artificial organisational boundaries.
Staff will work together with local communities to help shape service change, and it will be easier for staff to work across hospital and community services.
The places where local people live will be at the heart of the system, with more care provided closer to home. This is the cornerstone of the eight new integrated care communities, which include GPs, community services and adult social care working together for defined populations.
The changes being made
Case study
Advice and guidance
A new advice and guidance system is offering a secure, online way for GPs to contact secondary care doctors in several clinical specialities for advice on patient care to inform treatment, avoid outpatient referral and potentially prevent hospital admission. Of the first 2,000 contacts, the pathways for 80 per cent of patients changed as result of that contact and 413 outpatient referrals were avoided. The service is also supporting the development of stronger links between GPs and consultants.
A local GP said: "I have had numerous success stories – the quick, helpful advice I have received has really benefited my patients. They've received quicker treatment, more relevant tests and less unnecessary testing performed in primary care, and numerous referrals that I would have made have not been necessary."
Find out more about the changes being made locally to deliver their vision.
Looking ahead
Find out about the projects that will be happening in 2018/19 to help the integrated care system deliver on its ambitions.
Contact
You can get in touch with the integrated care system in the following ways: