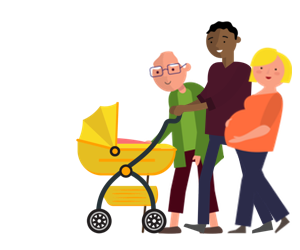 Region: London
Population: 2.4 million
Find out more about North West London integrated care system (ICS) including details of its population size, constituent organisations and priorities.
Priorities
Focusing on prevention – more support for people with diabetes onto manage their conditions; tackling alcohol misuse reducing attendances at A&E; investing in early diagnosis of dementia; and 200 lives a year being saved by detecting illnesses like cancer earlier.
Big improvements in primary care by increasing out of hours and weekend appointments, and bringing in additional workforce like clinical pharmacists into GP surgeries. By March 2019, patients who want to will be able to have virtual GP Skype appointments.
Enhanced home care to support older people in the place they live, including rapid assessment at time of need supported by the speedy implementation of the right care package.
A 24/7 pathway in North West London for those in a mental health crisis – this includes a 24-hour telephone line staffed by clinical specialists and crisis teams to support people in their homes day and night.
Investment in diagnostics in 2017/18 will mean patients in hospital will be able to get home on
average one day earlier.
Constituent organisations
The following organisations are part of North West London ICS. For individual contact details for these organisations, please see the NHS website.
Brent CCG
Central and North West London NHS Foundation Trust
Central London Community Healthcare NHS Trust
Central London (Westminster) CCG
Chelsea and Westminster Hospital NHS Foundation Trust
Ealing CCG
Hammersmith and Fulham CCG
Harrow CCG
Hillingdon CCG
Hillingdon Council; Harrow Council; Brent Council; Royal Borough of Kensington and Chelsea Council; Westminster Council and Hounslow Council
Hounslow CCG
Imperial College Healthcare NHS Trust
London North West Healthcare NHS Trust
Royal Brompton And Harefield NHS Foundation Trust
The Hillingdon Hospitals NHS Foundation Trust
The Royal Marsden NHS Foundation Trust
West London Mental Health NHS Trust
West London (London Borough of Kensington and Chelsea and Queen's Park and Paddington) CCG
Contact North West London ICS
STP leader: Lesley Watts, Chief Executive, Chelsea and Westminster Hospital NHS Foundation Trust
Email: NWLSTP@nw.london.nhs.uk