COVID-19 Vaccination Information
Welcome to our COVID-19 vaccination page where you can find the latest information on the vaccine, your eligibility and the latest developments in the vaccination programme.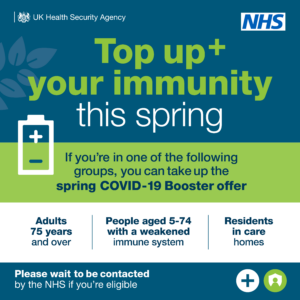 A spring booster dose of the Covid vaccine will be offered to people at highest risk of severe illness, following new advice from the Joint Committee on Vaccination and Immunisation (JCVI).
Spring 2023 COVID-19 vaccination programme: JCVI advice, 22 February 2023 – GOV.UK (www.gov.uk)
In line with the committee's advice, a spring booster dose will be offered to the following groups around six months after their previous dose:
adults aged 75 years and over;

residents in a care home for older adults; and

individuals aged 5 years and over who are immunosuppressed
Please wait for the NHS to contact you if you think you're eligible for a spring booster.
The NHS COVID-19 vaccination programme continues, allowing everyone who is eligible to come forward for first and second doses to book appointments. From July, this offer will only be available during campaign periods to those at higher risk of severe COVID-19. Otherwise healthy 5 to 49 year olds who have not come forward for their primary course COVID-19 vaccination will no longer be able to access this offer following the close of the 2023 spring booster programme, planned to end 30 June 2023.
To find out more visit: Coronavirus (COVID-19) vaccine – NHS (www.nhs.uk)