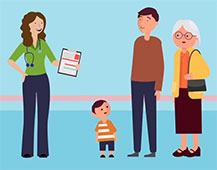 Nottingham and Nottinghamshire have a strong history of innovation with five vanguards, two primary care homes, two integrated personal commissioning pilots, a transforming care partnership and two wave 2 integration pioneers. Partners in the Nottinghamshire integrated care system include:
CCGs: Nottingham City, Nottingham West, Rushcliffe, Nottingham North and East, Mansfield and Ashfield, and Newark and Sherwood);
NHS trusts and foundation trusts: Sherwood Forest Hospitals, Nottingham University Hospitals and Nottinghamshire Healthcare (a large integrated mental health and community trust);
Eight local authorities: One unitary, and one upper tier (Nottinghamshire County Council and Nottingham City Council) with seven lower tier;
A wide range of providers from all sectors delivering services in and out of hospital.
The total population covered by the integrated care system is more than a million. It has an age structure similar to England as a whole, however this varies within the area – for example Newark and Sherwood, Nottingham West and Rushcliffe have higher proportions of older people. Some 27.8 per cent of the population live in the most deprived areas of England.
The vision
The partners want people to lead healthy independent lives. If someone needs help, advice or support, it should be easy for them to find out how and where to get it. Where possible, this help and support should be close to home, with hospitals for those who need them.
The aim is to deliver sustainable, joined-up high quality health and social care services that maximise the health and wellbeing of the local population, improve the care provided and tackle the growing pressure on budgets.
What this means for local people
Local people will receive better, more joined-up care, often closer to home. Local organisations will be better able to keep pace with the growing and ageing population and address some of the current problems in the NHS, while making it sustainable for the future. Benefits will include:
Those who are largely well today will be helped to stay well
Those with complex or advanced long-term conditions will be supported to manage their own care, with a system to escalate care quickly in the event of exacerbations
People will remain independent thanks to prevention programmes and proactive rather than reactive care
People will receive care at home and in the community as much as possible
Multi-disciplinary teams will work across organisational boundaries to deliver integrated care as simply and effectively as possible
The social value that health and social care can add to communities will be maximised.
Three areas in particular have been identified for continuous improvement:
Improving housing and the environment: The integrated care system wants to improve the wider elements that can affect health to prevent illness. It will work with partners to establish clear housing standards and there will also be a broader focus on leisure and open spaces.
Strengthening acute services: Nottingham University Hospitals and Sherwood Forest Hospitals will work together, and appropriate care will be increasingly provided in the community.
Driving system efficiency and effectiveness: The health and care system will operate as efficiently and effectively as possible to reduce waste and unnecessary variation.
Changes being made
Case study
Community fracture liaison service
The community fracture liaison service has been rolled out across three areas in South Nottinghamshire with more patients now receiving ongoing treatment for osteoporosis at their local health centre or at home instead of going to hospital.
Richard, 58, has bone fragility: "I had to have regular hospital appointments and tablets to strengthen my bones and reduce the risk of fractures. The hospital consultant referred me to a new community service where they provide an alternative intravenous treatment instead.
"The treatment lasts about half an hour and I only go back every 18 months, which is much better than having to remember to take pills every week and going to the hospital. I can even book appointments to fit round work commitments. I don't use the NHS a lot but it's wonderful when the service is so good when you do need it."
Find out more about the changes being made locally to deliver their vision.
Looking ahead
Find out about the projects that will be happening in 2018/19 to help the integrated care system deliver on its ambitions.
Contact
You can get in touch with the integrated care system in the following ways: