Why is it important?
Long term neurological conditions carry a significant burden to the individual, their families and carers, the NHS, and to society as a whole.
Neurological conditions such as Parkinson's disease, motor neurone disease, and epilepsy result from damage to the brain, spinal column or peripheral nerves. Some neurological conditions are life threatening, with many severely affecting an individual's quality of life.
There are over 600 types of neurological conditions, which are broadly categorised into:
Sudden onset conditions (e.g. acquired brain injury or spinal cord injury)
Intermittent and unpredictable conditions (e.g. epilepsy, ME, certain types of headache, or the early stages of multiple sclerosis)
Progressive conditions (e.g. motor neurone disease, Parkinson's disease, or later stages of multiple sclerosis)
Stable neurological conditions (e.g. post-polio syndrome, or cerebral palsy in adults)
Key facts
£3.3 billion spent in 2012-13 on neurological services (3.5% of NHS spend)
14% of the social care budget spent on people living with neurological conditions
There are an average of 12.5 million episodes of care per year
An average clinical commissioning group (CCG) has 59,000 patients with a neurological condition
There is an increasing trend in neurological deaths: 39% increase in annual deaths compared to 6% decrease in all-cause deaths since 2001. Deaths associated with a neurological condition are 35% more likely to be premature
People with neurological conditions have the lowest health-related quality of life of any long term condition
£750 million spent on urgent and emergency care including admission to hospital with 3.6% growth in emergency admissions year on year
What is NHS England doing to support improvement in care and outcomes for people living with long term neurological conditions?
Improved community care for neurological conditions can improve care coordination for the individual across service boundaries, optimise self-management, and focus specific resources on those with the greatest need.
In 2015 NHS England commissioned Thames Valley Strategic Clinical Network to lead a national programme of work. The objective was to stimulate the delivery of person centred coordinated care, and to encourage the adoption of community-based care models in order to improve the quality of life for people who have long term neurological conditions. The aim of the programme is:
To build capacity and capability within primary care to support care planning, self-management, and independence for people with long term neurological conditions, especially those with complex care needs
To demonstrate different ways of organising and delivering care and to support new care models, for example, by harnessing new opportunities offered by technology
To exemplify how investment in well-coordinated community services can reduce pressures on the acute healthcare system by admission avoidance and through reduced lengths-of-stay, delivering better outcomes for patients and value for money for the NHS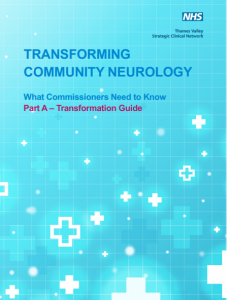 Transformation Guide for Commissioners
The work has resulted in publication of a report to support commissioners to transform neurological care in line with the vision set out for long term conditions in the NHS Five Year Forward View, and within local Sustainability and Transformation Partnerships. The information has been organised into three parts:
The Transformation Guide, sets out the context and case for change then introduces the key features of new models of care.
The Reference Reports document presents the original individual findings on the core topics, which informed the writing of the Transformation Guide.
To illustrate what is already being achieved around the UK by using new models of care, a set of Case Studies is also provided.
Resources to support the neurology programme:
Find out more
If your organisation is involved in neurology projects, or you would like to know more about the work of the national team, please contact england.clinicalpolicy@nhs.net.