Planning support tools for commissioners to draw on
NHS England is committed to providing as much planning context and support for commissioners as possible.  We have therefore developed the package of materials outlined below.  More tools will also be added to these pages over the coming days and weeks.
The support package puts the requirement of mutual development of planning by CCGs, Area Teams and local planning partners at the centre of the development and delivery of five year strategic plans. It has been developed in consultation with commissioners in CCGs and Area Teams and is made available for commissioners to draw on where needed. A slide pack for planners, which encapsulates the main body of materials listed below, is available here – Support for Strategic and Operational Planning
The diagram below shows the support package which will be made available to support the planning process.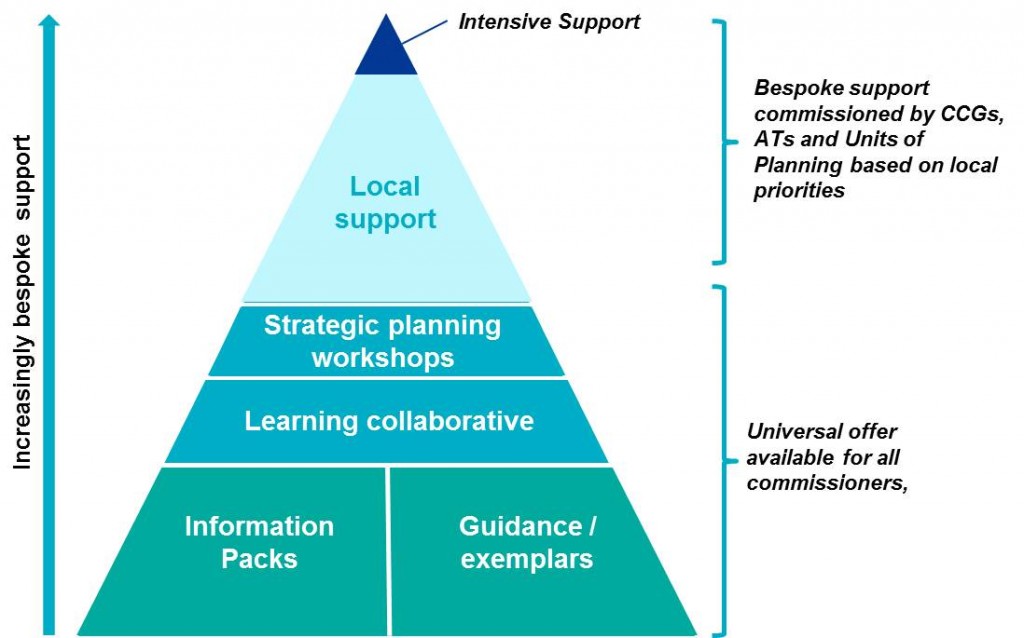 The universal support package, available to all commissioners, includes:
Local Authority Outcome Information Packs – These packs present comparative information from the three outcomes frameworks (NHS, Adult Social Care and Public Health) at a local authority level.
Any town health system model – The Any town health system is a resource designed to help local areas identify potential improvements to service delivery, and enable them to understand what the quality and financial impacts of those improvements may be. The tool provides case studies and analysis of a number of interventions that could be applied in a local health economy to achieve improved clinical outcomes and financial performance. The model is made up of five connected modules and shows how CCGs could achieve financial balance over the strategic period covered.
Practical support on participation – Our interactive web based Transforming Participation in Health and Care tool already provides advice, good practice, evidence and case studies on approaches to good public participation. This will be supplemented by resources that will be made available through Commissioning Support Units (CSU) aimed at engaging local communities in developing and commissioning services that meet their needs, and using insight and market research techniques to better understand those needs.
Better Care Fund models – The £3.8 billion Better Care Fund (previously referred to as the Integration Transformation Fund) was announced in June as part of the 2013 Spending Round. It provides an opportunity to transform local services so that people are provided with better integrated care and support. It encompasses a substantial level of funding to help local areas manage pressures and improve long term sustainability. The Fund will be an important enabler to take the integration agenda forward at scale and pace, acting as a significant catalyst for change.  Better Care Plans will form a key part of CCG and local authorities' strategic plans.  The Better Care Planning templates, guidance and support can be found here.
Information packs – Four data and information products have been developed to support the preparation of strategic and operational plans. To assist with outcome planning, data is available in the CCGs Outcomes tool which provides interactive access to detailed analysis of NHS outcomes and other relevant indicators at a CCG level and a Level of Ambitions atlas which provides a range of baseline and time series data that CCGs and Local Authorities can explore when developing their own levels of ambition. Also available are outcome data at GP practice and provider level where available in a spreadsheet. This atlas also includes baseline data at Local Authority level for the Better Care Fund indicators. To support strategic planning, data is available in Commissioning for Value packs and atlas these provide a comprehensive data pack to support effective commissioning for value and clearly show CCGs 'where to look' as a first stage to identify real opportunities to improve outcomes and increase value for local populations. The fourth is for operational planning and data is available in Operational planning atlas. This provides outcomes, activity and performance data for CCGs.
'How-to' Guide on setting outcome ambitions – Planning for Patients 2014/15 to 2018/19 asks that commissioners develop 5-year strategic plans centred on a set of seven 'outcome ambitions'. Over the next six months local commissioners will be required to submit plans and quantifiable ambitions for each of the seven overarching outcomes, articulating the benefit they are aiming to deliver for their community. To support all commissioners with this task, the NHS Commissioning Assembly's Quality Working Group and NHS England's national team have worked with a number of CCGs and Area Teams to generate this 'how-to' guide'. Using their insights, this short guide sets out key practical steps and insights to support commissioners to put outcomes at the heart of their plans.  The baseline practice projections for Outcome Ambition 1 are now available here.
Strategic planning workshops – Local workshops designed to assist with the planning process and build local relationships to create a joint vision and prepare for planning submissions. They will provide practical and technical advice about translating a strategy into a financial and operating plan and will support joint ways of working through advice on creating local governance arrangements aimed at galvanising action and initiating stakeholder discussions Area Teams will support the coordination and delivery of the workshops at local level and CSUs will be important partners in delivering and aligning support.
Learning collaborative – This will support the spread and adoption of learning, best practice and technical expertise. A new online learning environment for CCGs incorporating the Learning Exchange, CCG Connect and 'Find CCGs like mine' tools is available now, with the online Directory of Development Support Offers and a Case Studies Pinboard to follow in early 2014. Together, these tools are a space for CCGs to collaborate, share their learning and offer mutual support. We are planning to create a programme of webinars and learning events on key topics across three broad areas of: best practice sharing; strategic planning by injecting thought leadership and support for the technical aspects of planning and delivery
Thought Leadership discussion papers – a series of publications containing key facts, data and commissioning advice to support the development of transformational strategic plans. The Parity of Esteem paper achieving parity of esteem: transformative ideas for commissioners sets out the quality and financial case for the reallocation of resources to achieve POE. It provides useful tips and case studies to help commissioners achieve this vision in the wider context of their strategic plans.
Planning and Delivering Service Changes for Patients – This guidance is designed to be used by those considering, and involved in, service reconfiguration to navigate a clear path from inception to implementation. It will support commissioners to consider how to take forward their proposals, including effective public involvement, enabling them to reach robust decisions on change in the best interests of their patients. In addition, it sets out how new proposals for service change or reconfiguration are tested through independent review and assurance by NHS England. This document replaces 'Planning and delivering service change', published by NHS England in December 2013. Clinical Commissioning Groups (CCGs) are under a statutory duty to have regard to this guidance.
Commissioning Service Transformation – Our interactive tool, Commissioning for Effective Service Transformation: What we have learnt, has been developed to explore some of the evidence and emerging learning on how to achieve effective service transformation.  It highlights some of the key themes commissioning staff can consider as they develop their strategic plans, and provides practical examples of how commissioners have approached transformation in their local areas.
NHS England, the NHS Trust Development Authority (NHS TDA) and Monitor have agreed a joint Dispute Resolution Process for 2015/16.