The House of Care has been created out of a need to change the way we deal with long term conditions.
The sheer scale of the long term conditions challenge for modern healthcare systems means that we need a shift – away from the 'medical model' of illness (which worked efficiently in the 19th and 20th Centuries to bring down mortality and morbidity) towards a model of care which takes into account the expertise and resources of the people with long term conditions (LTCs) and their communities to provide an holistic approach to their lives and help them achieve the best outcomes possible.
The House of Care approach provides such a model.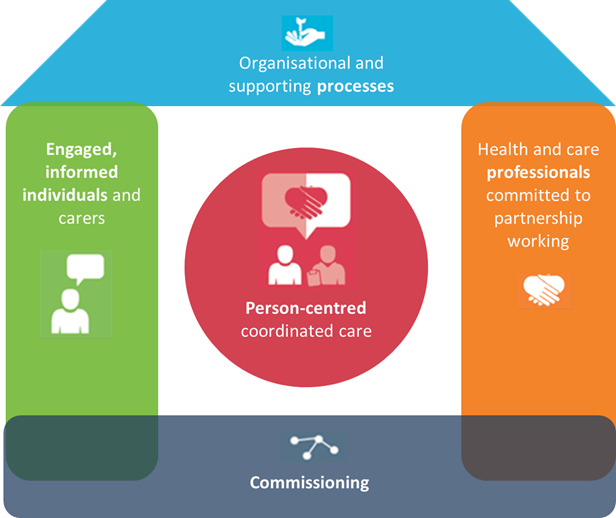 The problem
The 15 million people in England with long term conditions have the greatest healthcare needs of the population (50% of all GP appointments and 70% of all bed days) and their treatment and care absorbs 70% of acute and primary care budgets in England.
It is clear that current models of dealing with long term conditions are not sustainable. Rather than people having a single condition, multimorbidity is becoming the norm. The number of people with three or more long term conditions is set to increase from 1.9m to 2.9m by 2018, and this will be associated with an extra £5bn p.a. spend.
The barriers to great care for people with long term conditions have been identified by a wide range of reports and reviews, and can best be summed up as failure to provide integrated care:
Single condition services: services dealing with single conditions only and adopting single condition guidelines (with attendant dangers of polypharmacy, and excluding a holistic approach to service users).
Lack of care coordination: people being unaware of whom to approach when they have a problem, and nobody having a generalist's 'bird's eye' view of the total care and support needs of an individual.
Emotional and psychological support: in particular, a lack of attention to the mental health and wellbeing of people with 'physical' health problems (as well as failure to deal with the physical health of people with mental disorder as their primary long term condition).
Fragmented care: the healthcare system remaining within its own economy, and not being considered in a whole system approach with social care or other services important to people with long term conditions (e.g. transport, employment, benefits, housing). Failure to support people with 'more than medicine' offers as provided by, for example, third and voluntary sectors.
Lack of informational continuity: care records which can't be accessed between settings, or to which patients themselves don't have access.
Reactive services, not predictive services: failure to identify vulnerable people who might then be given extra help to avoid hospital admission or deterioration/complications of their condition(s).
Lack of care planning consultation: services which treat people as passive recipients of care rather than encouraging self-care and recognising the person as the expert on how his/her condition affects their life.
Further information
What people want
In order to design integrated care systems, people have told us that they want 'Person-centred, coordinated care' giving the following narrative for how they manage their long term conditions:
"My care is planned with people who work together to understand me and my carer(s), put me in control, co-ordinate and deliver services to achieve my best outcomes." (National Voices)
Person-centred, coordinated care will enable individuals to make informed decisions which are right for them, and empower them to self-care for their long term conditions in partnership with health and care professionals.
A solution – The House of Care
NHS England and partners are using the 'House of Care' model as a checklist/metaphor for these building blocks of high quality person-centred coordinated care. The House relies on four key interdependent components, all of which must be present for the goal, person-centred coordinated care, to be realised:
Commissioning – which is not simply procurement but a system improvement process, the outcomes of each cycle informing the next one.
Engaged, informed individuals and carers – enabling individuals to self-manage and know how to access the services they need when and where they need them.
Organisational and clinical processes – structured around the needs of patients and carers using the best evidence available, co-designed with service users where possible.
Health and care professionals working in partnership – listening, supporting, and collaborating for continuity of care.
The House of Care model (based on the Chronic Care Model of Ed Wagner, and the Diabetes UK Year of Care project is useful for drawing together the building blocks of integrated care to include the essential elements of continuity:
Informational continuity: by which people and their families/carers have access to information about their conditions and how to access services; health and social care professionals will have the right information and records needed to provide the right care at the right time.
Management continuity: a coherent approach to the management of person's condition(s) and care which spans different services, achieved through people and providers collaborating in drawing up collaborative care plans.
Relational continuity: having a consistent relationship between a person, family, and carers and one or more providers over time (and providers having consistent relationships with each other), so that people are able to turn to known individuals to coordinate their care.
Applying the House of Care
The House of Care framework is suitable for all people with LTCs, not just those with single diseases or in high risk groups. In some areas, elements of the House of Care approach are in place. But almost no areas have made the full set of changes and services that are needed to support person-centred coordinated care for people with LTCs. This is mainly due to the complexity of the changes needed. It is not just a question of changing patient attitudes, or workforce cultures, or organisational or commissioning systems, each of which by itself is a huge challenge; radical change in all these areas is required.
This change also needs to happen system-wide, vertically as well as horizontally. This means the House framework being used in 'front-line' clinical practice, and being supported by local and national policy and strategy. There are at least three levels at which the House of Care framework can be used:
Personal level: how the House of Care gives professionals on the front line a framework for what they need to do along with the people for whom they provide care and other providers, and ask local commissioners to secure for them (i.e. care planning to jointly select the particular services which will help a particular person achieve their goals).
Local/community level: how can local health economies make sure that the House of Care involves a 'whole system' approach to provision of services, including 'more than medicine' offers (community links with social care, housing, transport, employment etc). This will need commissioners to decide on:
What: What are the principles and philosophy behind the care which commissioners wish to provide e.g. National Voices 'I' statements and what is the model to use as framework or providing this care (e.g. the House of Care supporting care planning) for the overall population?
Which: Which populations of people with LTCs require a customised House of Care approach due to their particular care needs, and how will they be identified (e.g. risk stratification approaches, GP disease register, frailty index etc)
Where, When, and Whom: Decide the local model of care i.e. where and when will all the components of the house be delivered for each group of people, and by whom.
How: Write the specification of how to achieve this including the financial model that will support what needs to be done (tariffs, contracts, incentives etc that match the model of care).
National level: what can national organisations such as NHS England and its partners do to enable construction of the House of Care at the community and personal levels).