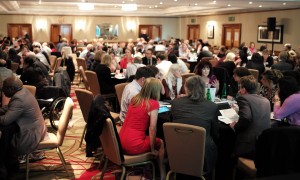 More than 200 people attended a special NHS England Call to Action event in London on 7th April 2014 aimed at further shaping the future of dental care and oral health services.
Oral health professionals joined patient representatives, national bodies such as Public Health England and Health Education England and other NHS staff from Area Teams, acute and community trusts.
When surveyed on arriving, around four out of five delegates agreed that change was needed in how NHS dental services are commissioned and delivered and want to have a role. Over half of them also thought that encouraging a preventative approach and self-care by patients was a key factor in improving the nation's oral health.
Opening the event, NHS England's National Director for Commissioning Development Rosamond Roughton said her aim for the Call to Action was to build on improvements in access; improve quality and address inequality. Professor Jimmy Steele CBE, chairman of the national review of NHS dental services in 2009, said that the poorest fifth of the population has eight less teeth than the richest fifth.
Public Health England's Director of Dental Public Health Dr Sue McGregor underlined that there was a clear link between deprivation and poor oral health while Dr John Milne, Chair of the British Dental Association's General Practice Committee, added that he supported the call to action but said he wanted to see the dental contract reform work continuing.
During the day themes such as tackling health inequalities; ease of access; improving data, intelligence, inspection and monitoring; adapting the dental workforce and information and communication were debated with delegates identifying both the challenges and possible solutions.
Closing the event, NHS England's Chief Dental Officer Barry Cockcroft thanked everyone for the enthralling debates, energy levels and enthusiasm displayed all day.
People are still encouraged to have their say on Improving Dental Care and Oral Health – a Call to Action which closes on Friday 16th May.
Related documents