Clinical Services Quality Measures (CSQMs)
Clinical Services Quality Measures (CSQMs) provide an at-a-glance indication of how well services are performing. They have been developed as composite measures. A composite measure is one that is based on multiple data items.
Clinical Services Quality Measures are a series of metrics that, for example, will allow for comparisons between services such as units within hospitals; providing better information for patients, clinicians and citizens. These measures use data that are already collected through national clinical audits, as well as through the Hospital Episodes Statistics (HES) system, surveys and other indicators that are already available and are fit for further analysis/aggregation. The measures will be developed according to statistical principles and will be assured by clinical and technical experts.
NHS England is involving patients, the public, service providers and clinicians in the development of these measures. You can access these via the NHS website and My NHS.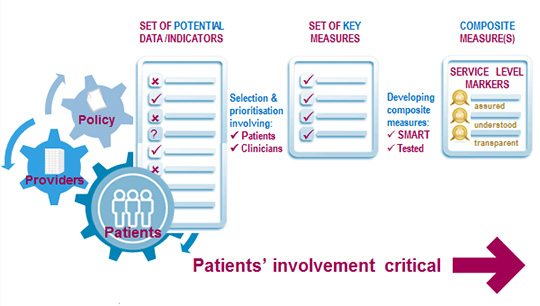 Who will find Clinical Services Quality Measures useful?
Patients will be provided with more accessible and richer information, allowing them to see how well different services are performing and meeting their needs.
Commissioners will have more insight into patient outcomes.
NHS staff will be able to see how well their services are performing compared to similar services in other parts of the country, which will promote a learning culture across the health system.
NHS will benefit from open and transparent publication of new data, aimed at driving service improvement and reducing unwarranted variation.
What is unique about Clinical Services Quality Measures?
For many years, the Care Quality Commission and other organisations have published data comparing different hospitals. More recently, data from national clinical audits have been published at the level of individual consultants for 12 surgical specialities. There is currently a lack of information about the quality of care at a clinical service level. For example, we are currently unable to compare the quality of cardiac services in one hospital to another. The Clinical Services Quality Measures programme will fill this gap.
Where and when can Clinical Services Quality Measures be found?
These new measures will be available on the NHS and My NHS websites, with the underlying data available directly from the relevant national clinical audits and/or intelligence networks; where appropriate and safe.
The first Stroke Clinical Services Quality Measures can be found on My NHS.
Which clinical areas will Clinical Services Quality Measures cover?
The initial comparable services will include:
Stroke
Cancers
Cardiac and;
Mental health (dementia and psychosis).
There are also plans in place to cover children and diabetes in future phases.
How were clinical areas prioritised?
The criteria used to prioritise the clinical areas included national and clinical priorities, as well as considering quality of data and achievability.
The Clinical Services Quality Measures programme is not producing new data collections but is using existing ones, including for example national clinical audits, Hospital Episode Statistics. Despite this, where noticeable gaps in data are found through the development of Clinical Services Quality Measures, we will make recommendations to the appropriate part of NHS England about areas for future data collection.
Who are we working with?
The expert knowledge and data necessary to progress this work lies with NHS England's partners such as specialist societies, Health and Social Care Information Centre and Public Health England, who coordinate national intelligence networks. Therefore NHS England works closely with our partners, data experts who also have access to the specific, when needed record level, data sets in the different condition areas, ensuring that patient and clinical involvement is integrated into each step of the work. Throughout the development of our measures we will ensure that the patient and public voice is championed. Patient and Public Voice is a great support of our work helping us to engage with numerous charities supporting patients with conditions that are developing measures on.
How do I find out more?
Are you interested in finding out more or contributing to the development of Clinical Services Quality Measures?
Please contact: ENGLAND.servicemeasures@nhs.net.
Previous events
NHS Expo 2015: "A thought-provoking discussion to challenge some well-known presumptions that composite measures are masking rather than highlighting good practice and/or areas for improvement. Clinical Services Quality Measures intend to provide an at a glance view of quality of services such as cancer, cardiac, mental health and others. This session will explore whether these measures, to be available on MyNHS and the NHS website, can help patients and NHS to understand how well the services are performing and are they meeting our (patients) needs?"