Patient choice – resources and materials
NHS England has produced a number of materials and resources to help CCGs and GPs to encourage patient choice.
These are all available to download below. They can be printed locally or sent to an external designer for professional production, and can also be used digitally on GP or CCG websites.
Digital screen promotion
These images have been designed to display on screens in waiting areas and surgeries. For organisations using Med-Extranet, they are available to download now.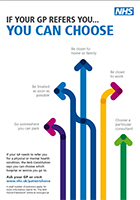 Patient facing posters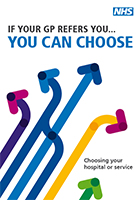 Patient facing leaflet
An Easy Read version of this leaflet will also be made available here as soon as it is complete.
Signature strip

The January 2017 version of Securing meaningful choice for patients: the CCG planning and improvement guide is also available to download, with a recently added editable section for CCGs to use for self-assessment.
If you have any questions about these resources, or require the original InDesign files, please contact england.choice@nhs.net.