Charlotte and Tom's story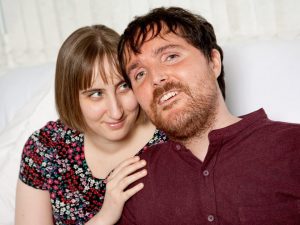 Note: Some sections of this story refer to clinical commissioning groups (CCGS). On 1st July 2022, integrated care systems (ICSs) took over statutory commissioning responsibilities in England, and CCGs were closed down.
Charlotte was diagnosed with Muscular Dystrophy (MD) on her 22nd birthday. She was in her second year at university studying Physics when her health rapidly deteriorated and she suddenly went from "living a normal student life" to needing "round-the-clock care". Having a personal health budget has had a transformative impact on Charlotte's life and has enabled her to take control of her care, empowered her to marry her husband Tom, who also lives with MD, and for them to live a normal married life together. Charlotte has noticed a reduction in her hospital admissions since having her budget and is now more in control of her care.
Following her diagnosis, Charlotte spent two years in a care home before receiving live-in care at her bungalow. For a while, during which Charlotte's healthcare needs were relatively straight forward, this set-up worked. However, as her condition progressed and multiple carers were brought in, Charlotte felt her independence being taken away. Her care was inconsistent and the quality was at times poor; she wanted more control over her life: "I feel like 'care' is a bit like being pulled along by a car; you're entirely dependent on the wheels and you're totally out of control".  However, with the help of one of her carers, who suggested applying for a PHB, Charlotte's life changed and she finally felt like she was back "in the driving seat" with a renewed sense of freedom and control.
When Charlotte met her husband-to-be, Tom, who had been diagnosed with Muscular Dystrophy as a child and had been cared for by his dad, their relationship depended on Tom's dad's support and willingness to drive them to see one another. Despite their reliance on full-time help with most aspects of their lives (eating, drinking, moving, and ventilation at night), their relationship went from strength to strength and they didn't let anything get in the way of them living life as a couple. Tom's first application for a personal health budget was unsuccessful, but when his health deteriorated Charlotte decided to take control, discharging Tom from hospital and moving him into her house. Following an emergency reassessment, Tom began receiving a personal health budget and Charlotte's budget was re-assessed after a bout of very poor health.
After just one year of living together, they were able to employ a team of personal assistants (PAs) and have at least two people with them at all times – "It gives us the ability to be normal". Managing their own care through their personal health budget has enabled them to make their own decisions about how best to spend their budget in ways that enhances their quality of life. For example, despite feeling that they had been 'written off' as non-rehabilitative, and therefore unable to receive physAiotherapy, they now have access to massage therapy, which has helped to significantly reduce pain and maintain their muscle condition.
The benefits of Charlotte and Tom's personal health budgets extend well beyond physical healthcare and have helped them to feel that they are able to have a genuine "adult to adult relationship". Tom was told, as a child, that he would not live past the age of 18, a possibility that had shaped his outlook and aspirations. Having a personal health budget has helped him to overcome this, and has "really taught him how he can cope..it has become really empowering for him".
"We wouldn't have got married without a personal health budget. That's the truth. We would have ended up in residential care, which has always been our biggest fear"
Against the odds, in 2018, Charlotte and Tom got married: "Our PAs played a huge role in making everything happen for our wedding. It was amazing. Our PAs don't just do our personal care, they are involved in every aspect of our life. We wouldn't have got married without a personal health budget. That's the truth. We would have ended up in residential care, which has always been our biggest fear". Charlotte and Tom are so happy with the level of care that they receive that they even negotiated a pay rise for their PAs, which was approved.
Charlotte and Tom recently decided that they wanted a shared budget, something that has never been done before. Having successfully put forward their case to the local clinical commissioning group (CCG), they are now receiving the first joint personal health budget, as well as weekly hydrotherapy sessions and have, once again, noticed a significant improvement in their health.
Having successfully put forward their case to the CCG, they are now receiving the first joint personal health budget
Being able to live a "normal life at home", "contribute to society" and "feel valued" is really important for Charlotte and Tom, something that their PHBs have played a key role in achieving. Gaining independence has given them the energy and enthusiasm to feel able to give back. They now work with national organisations like PeopleHub to encourage other people with long-term health conditions and disabilities to shape their lives and make decisions about their own health and wellbeing. Charlotte and Tom's overwhelmingly positive experience of personal health budgets is clear and demonstrated by their commitment to helping and advocating on behalf of others: passing on the ability to take control and to make the transition to personalised care.