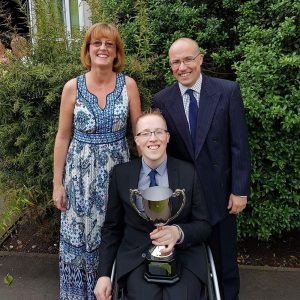 Karl, 23, has Spina Bifida and Hydrocephalus which has resulted in  extensive nervous system damage. He also has epilepsy which affects the brain and causes seizures. The combination of these conditions has led to a complex set of care needs. As a child he received wonderful specialist care but Karl's transition from children's to adults' services was a challenge. Since having access to a personal health budget (PHB), and feeling more in control, he is much happier, busier and has discovered a new appreciation for life.

Karl's mother, Helen, noticed a shift in her son's emotional state as he entered adulthood: "Transition is a cliff face for many children; a period of turmoil for young people and their families – especially when living with a long-term health condition". As a young man, Karl began to feel like he was a burden and too difficult to look after with no place in society. When Karl left college he went into day care and the expectation that he had to accept "whoever was available to provide his care" which left him feeling anxious and depressed, and made simple activities, like waking up and getting out of bed, hard to manage. Without a PHB, Helen felt that she would have been left with no option but to take him out of day services and become a full-time carer which she felt would not have been "in his best interests".
As a result of his PHB, Karl uses fewer services than before and can direct how he spends his time.
Fast forward to when Karl received his PHB, and he is in charge of his care – a change that has helped to eradicate his symptoms of depression and dramatically improve his well-being. Helen remembers that "right from the word go, services were adapted to accommodate Karl's specific personal requirements and he was asked what he wanted to do rather than people dictating what he needed to do. Nobody had ever asked any of us anything that we wanted to do – it was radical!" Karl now knows and is friends with his personal assistants (PAs) – he has been able to build strong, meaningful relationships with them. And as a result of his PHB, Karl uses fewer services than before and can direct how he spends his time, and is able to integrate his love of sport into his routine.
Karl's conditions mean that his brain pressure changes constantly and he needs to move regularly to adjust this. Through being in control of his own budget, Karl was able to invest in a reclining chair which allows him to manage this important element of his care independently, something that was not possible before the PHB.
Karl's PHB has been life changing for him and his family and has helped them all to reconnect with one another as a family, whilst also finding their own independence: "I lost our son…his personality disappeared, but in the last 12 months we have re-discovered one another – it's been incredible". Having lived parallel lives for a long period of time and not been away together in years, Helen and her husband were recently able to go on holiday, knowing that their son was in the safe and competent hands of his PAs. This greater sense of freedom and having more time as a couple has helped them to remember that they "still really love spending time together". Having more time has also given Helen the space to give talks that help to bring awareness to the benefits of PHBs and celebrate the NHS – topics that she feels deeply connected to and passionate about. These things would never have happened without a PHB.
People stopped trying to fix Karl and instead began celebrating everything that is Karl.
Reflecting on the impact of the PHB on Karl and the family, Helen recognises that "Karl is now happy, engaged, motivated and full of energy; his condition no longer defines him. He bounds out of bed in the morning – whereas he felt so dissociated in the pre-PHB years that he spent much of the day sleeping – he now feels that he has a purpose. He is finally more than his medical needs. The big change was that people stopped trying to fix Karl and instead began celebrating everything that is Karl".