---
Walsall: Dementia diagnosis
Whole-System Commissioning: A campaign to improve diagnosis, the experience and outcomes of people with dementia and their carers
There are approximately 820,000 people with dementia in the UK. In just 30 years, the number is expected to double. The national cost of dementia is around £17 billion but will increase to £50 billion in the same time period. Whole system commissioning is about looking at the big picture, the numbers, issues, resources, views of people and planning a strategy which has to include absolutely all parties.
We are increasing the numbers of people diagnosed, supporting people with dementia and their carers better, increasing public awareness of dementia, the attitudes towards dementia and reducing the stigma associated with it.
The Walsall whole-system dementia commissioning model could be used by anywhere else. It is a response to the same issues, the Prime Minister's challenges and to implement the National Dementia Strategy. This is evidenced by NICE citing two Walsall case studies in their April 2013 whole-system commissioning guide and their link to a copy of our model. Furthermore the SHA (when in existence) highlighted several pieces of our work such as our emergency services dementia guide, improved CQUIN for acute hospitals and integrated dementia pathway. We have also been covered by national newspapers, TV and asked to speak at conferences.
---
Nottingham West: Carer support
CCG supports unsung heroes of NHS
Three in five people will become a carer at some point in their lives. Every single day 6,000 people take on new caring responsibilities.
Recognising the valuable role carers play in society, NHS Nottingham West CCG launched a campaign to identify local carers and signpost them to support services.
More than 12,000 Broxtowe residents are playing a valuable role in caring for family and friends each week, according to the latest Census figures.
However, only 1,600 carers are known to their GP, who can offer support and advice as well as free flu vaccinations and health checks.
As part of Carers Week 2013, which took place from 10 – 16 June, six GP Practices held events in their waiting rooms to identify carers.
The CCG also ran a bus roadshow across the area which visited supermarkets and town squares in March 2013.
The events were a real partnership approach thanks to the community services provider, voluntary sector and county council all sharing the same common goal.
This community engagement has led to a large increase in the number of carers on GP records, plus the number of carers assessments undertaken in the area by social care rose by 260% in March 2013.
For more information visit www.nottinghamwestccg.nhs.uk care or follow @NottmWestCCG on Twitter.
---
Nottingham West: Integrated Pathways
Nottingham West has incrementally commissioned a range of long term conditions pathways that have spread and sustained as models of good practice.
Services include Specialist Nurse case management in Diabetes, Heart Failure, COPD, community clinics in COPD, Diabetes, and Pain Management, extended pulmonary rehabilitation, and community ward model of multi-disciplinary case management.
Recent improvements include End of Life Nurse Co-ordinators, pulmonary rehabilitation extended to heart failure, and dedicated psychological support.
The locally developed information system Ehealthscope supports policy and pathways information alignment.  An end of life log and care home residents log support care management of these patients, most of whom have long term conditions.
Patient satisfaction is high and their stories evidence that people are being kept alive longer and in better overall health, with fewer hospital admissions and more holistic support for families.
The CCG has also focussed on improvements for patients with Dementia and Learning Disabilities, and in 2013 is focussing on neurological conditions and Physical Disability Sensory Impairment, working with local partners for example supporting people in retirement living, and supporting carers.
---
Stoke-on-Trent: Telehealth
The Stoke-on-Trent CCG "Simple Telehealth" service, Florence or as those who have come to use it Flo, uses texting technology to engage patients in their healthcare, improving concordance and compliance with clinical management plans enabling the patient to achieve clinical outcomes faster with improved convenience for both patients and clinicians.  Over 440 patients joined the Florence telehealth service in 2012 – 13 with patients from all health areas including  Mental Health, Community, Primary and Secondary Care.  Interest in Flo really took off in 2012 with new clinical protocols for patient care being developed for use by GPs in General Practice; Consultants and their teams in North Staffordshire Combined Healthcare NHS Trust and University Hospital North Staffordshire; for Community Nurses and Community Services in Staffordshire and Stoke-on-Trent Partnership Trust; and for a range of services and initiatives in Public Health.
Recognising the work done in Stoke-on-Trent, the Department of Health awarded Stoke-on-Trent CCG a National Project to deliver Flo to General Practice in 25 CCGs across England,  The project has been so well received it is oversubscribed with more CCGs and their General Practices joining the service outside of the national project.
The work done in Stoke-on-Trent has attracted national interest and the achievements of Florence and the undoubted potential this service offers clinicians and patients has featured in articles in GP Magazine, The Guardian, Pulse, and BMJ Open peer reviewed publications to name but a few.  The Health Foundation has made Stoke-on-Trent CCG a second SHINE award to develop use of Flo for GPs' health and Flo is also approved for use in the NHS Health Check; Florence has been quality assured by NICE for implementation of hypertension guidelines;  Flo won a top-20 place in the NICE shared leaning database; and Phil O'Connell, local inventor and champion for Florence, has won the accolade of "THE NHS Innovator of the Year" and appointed as honorary lecturer at Keele School of Medicine for his work on this project.
---
Stoke-on-Trent: Improving access to phychological therapies
A new service provider took over the IAPT service on 1st April 2013.  The procurement of this service was delayed for 12 months as stakeholders were unhappy with the service specification and to allow time for a new one to be developed.
Following on from this, GPs and practice managers were asked for feedback on the then current service and what they would like to see from a new service.  In parallel to this, service users and other stakeholders were also engaged.  The culmination of feedback and recommendations from this engagement process as well as Department of Health guidance on IAPT services was used to develop a new service specification.  A service specification group (consisting of service users, locality representatives and the CCG Clinical Director for mental health) met to finalise the content of the specification.  The result being a much broader and more inclusive service specification.
During the procurement process, the successful applicant demonstrated quality, an innovative service model and a competitive budget, so that there will be an increase in the number of patients seen.
Currently the service is part way through the implementation stage and in the coming months the following enhancements will commence:
Work with primary care to pilot quicker and easier access into the service
An integrated model of working with the physical health and social care teams across the City will be developed.
---
Erewash: Reducing unwanted variation to deliver efficiencies in PC
Why the work was done
During 2011-12, the CCG was expected to deliver savings of £4.1m as part of the QIPP agenda. Clinicians in the CCG had a clear understanding of this and worked together to meet this target.
Who Was Involved and When
From Spring 2011, all 13 of the general practices in the CCG together launched a programme of intensive engagement and debate with the aim of establishing a whole new ethos within primary care in Erewash of "we're in this together". The scheme was fully implemented by August 2011.
This programme tackled the productivity challenge by concentrating on quality standards within Primary Care, and impacted on all groups accessing primary care. The emphasis was on changing behaviour, particularly in quality and innovation in the consulting room, whilst not detracting from patient focus.
All practitioners were involved in the co-production, and had considerable freedom in tailoring it to their patients. They resolved to address any significant, unwarranted variation in clinical activity between individual doctors and practices, the nature and extent of had not been determined at this point.
What was done and how it was done
The work was based on the Primary Care Foundation Report 2009, focusing on three aspects of activity:
Referrals to secondary care
Emergency admissions
Prescribing
Emphasis has been on improving clinical outcomes and patient experience, rather than on savings. Education and empowerment were central themes.
Data packs were developed with the collaboration of practices and circulated monthly, enabling clinicians to compare their performance locally and nationally, and to identify and tackle variation in their own practice. Packs features referral, admission, prescribing, immunisation rates and patient experience data, plus the RightCare data set. Public Health and LINKs information is included for discussion and to provide patient feedback.
Each practice is visited quarterly by fellow GPs for peer support, encouragement and challenge, and to share and learn from best practice. Visits focused on pastoral and development issues rather than performance management, with emphasis on learning and development through collaboration and training, involving a wide range of practice staff.
Secondary care consultant master classes have been organised in high-referral specialties, discussing real cases and increasing GP confidence in avoiding inappropriate referrals.
GPs take part in peer reviews within their practice, and between practices, thus collaborating on decisions about referrals to secondary care. The format varies; some review prospectively, others analyse retrospectively. Larger practices have a "buddying" system for GPs to benefit from peer support. In all cases, quality of clinical decision is the primary concern. Patients are informed of the peer review process to explain it may take a little longer, and they say they appreciate the extra attention given.
Prescribing advisors are provided to deliver intensive support for practices, encouraging the best use of antibiotics, statins and lower-cost items.
Practice quality payments are available to encourage and recognise the extra effort involved in developing co-ordinated care plans for high-risk LTC and EOL patients to avoid admissions, which involve a range of local agencies.
On-going clinical dialogue is a feature of the programme and helps identify opportunities for further improvement.
Impact
Notable benefits are evident from the programme's first year, including:
Better prescribing, meaning better patient safety and experience
Secondary care clinicians reporting less duplication of tests from improved systems and processes, and  improved quality of referral letters
Excellent patient feedback
Inappropriate hospital admissions prevented, down by 4% annually – (mainly long-term conditions and frail elderly) meaning better outcomes and experience for these patients
£1.04m saving on referrals and admissions – 14-fold return on the investment in 2011-12
CCG's prescribing overspend cut by 75%, saving £600,000
Secondary care referrals from practices were down 14%
Referral rate variance across 13 practices dropped from 202-378 per 1000 in 2010-11, to 174-257 – a reduction of over 50% in variation
Clinical leadership and engagement within individual practices has generated innovation and ideas for future development, including a locally delivered Lower Urinary Tract Symptom service, Ophthalmology triage service encompassing local care delivery for a range of conditions, and clinical focus on the orthopaedic pathway.
The programme is established as a template for the successful delivery of QIPP for other programmes – clear evidence of the efficacy of a smaller CCG with local focus and 100% GP engagement. The work has been recognised by the HSJ and NAPC as finalists for 3 awards in 2012.
As part of our active involvement in the 2012/13 contracting round, we ensured that our new commissioning arrangements were reflected in new provider contracts. To enable this we negotiated proposals as part of our on-going discussions with Nottingham University Hospitals, Derby Hospitals NHS FT, and Derbyshire Community Health Services Trust. We enacted a reduction in our planned requirement for outpatient and inpatient services, whilst ensuring the appropriate activity was commissioned to meet local demand in accordance with the NHS Constitution and Operating Framework requirements.
---
Nottingham North & East: Putting good health into practice
David is a citizen using health and social care services in Nottingham North and East Clinical Commissioning Group (NNE CCG). Six months ago seven different health professionals and two social care services orchestrated his care. Part time worker David had to manage work around his care.
After listening to such stories NNE CCG invested £500,000 and commissioned evidence based service which wraps care around needs. David has one case manager coordinating his care 8am -10pm, 7 days a week including overnight provision. He now rings one number and the service assesses the situation, responds with the appropriate level of care (clinical /social/voluntary) to deliver care within 2 hours to avoid unnecessary admission. When admission is the right choice a rapid transfer from hospital scheme provides complex care out of hospital.
Staff are our most valuable asset and an extensive workforce consultation took place with over 70 one to ones with staff side. Staff have moved from uni-professional to case managers offering population health care.
A new service specification measured through patient led outcomes is in place with independent evaluation of the impact of the workforce change. A patient led group is measuring the impact for citizens.
---
Nottingham North & East: Improving care for older people
Nottingham North and East Clinical Commissioning Group (NNE CCG) led an innovative initiative to improve the quality of care for patients in a local community hospital.  Evidence showed that many patients could be more effectively managed; an average 37 day length of stay and 46% of patients admitted not meeting the in-patient criteria at some point in their stay. The majority could have been managed in a homecare/community care setting.
The CCG
Enacted modelling, using Scenario Generator, which suggested with improved community support the same admission activity could be easily maintained with reduced ward capacity
Worked closely with adult social care to reduce delayed transfers of care which resulted in no delayed transfers of care
24 unused community beds were decommissioned
Enhanced community based rehabilitation support was commissioned for 'home' setting as an alternative to staying in Lings Bar harnessing third sector expertise.
Service redesign and real time evaluation/feedback conducted in partnership with patients and carers has led to the mainstreaming of this model
Acute trust liaison enabled vacant ward re-utilisation to provide haemodialysis facilities
Outcomes
Significantly improved experience for rehabilitation and haemodialysis patients
Recurrent QIPP saving of £1.2m for decommissioned beds
The haemodialysis unit within the freed-up ward has avoided previously planned £7m new build spend.
Further Information
www.nottinghamnortheastccg.nhs.uk
---
Basildon & Brentwood: Care for Home Patients
---
Thurrock: Rapid Response Assessment Service
---
Enfield: Improving care for residents
Enfield CCG has developed a number of initiatives to improve care for their residents and help people to stay at home with appropriate support when they are ill.  The following is an illustrative example:
Mrs S is 86 years old and has a number of medical issues that are usually well managed by her GP and community matron. Mrs S also has some help from social care to live at home. Mrs S has begun to feel unwell and is visited by her community matron. There appears to be a number of things making it difficult for Mrs S to manage and it is agreed that she would benefit from coming into the local outpatients assessment unit. Transport is arranged and she is seen by the team the same day. She has a chest infection and is given antibiotics. The social worker is able to increase the help that she is having at home and the community matron schedules a visit for the following day to assess how she is getting on. Mrs S is able to go home and doesn't have to stay in hospital
---
London: Specialised Commissioning
The London HIV Service Review has remained an on-going priority due to the high incidence of the disease in London.  In 2010, focus was renewed and work has been underway since  to collect data and engage stakeholders to inform potential models of care to better support people living with HIV and accessing care in London. The model of care needs to change to respond to:
A shift of HIV from a fatal disease to a long term condition through access to effective antiretroviral treatments.
The changing needs of people living with HIV as the impact of living and ageing with HIV are becoming apparent.
The on-going pressure on services and resources due to the sustained rate of new infection rates c.4% and the increase in the numbers of people accessing care and treatment in London of c. 5-6%.
Nationally, the rates of undiagnosed HIV infection remain at c. 25%.
The information gathering stage of the project is now complete following the finalisation of the Public Health needs assessment and subsequent reviews of 'Aging with HIV; the publication of the My Care I care survey of HIV Service users in London by Sigma Research and the release of the London Clinical Working Group 'critical mass' guidance for inpatient services. A workforce capacity model has been commissioned and analysis of London staff capacity completed. A significant stakeholder event took place in December 2012 and the preference for reconfiguration of services into 'networks' models was clear.
The HIV Expert Advisory Group (EAG) is key to the robust governance of the review as it moves into the consultation phase. Public Consultation on network options for reconfiguration will take place during the summer months to ensure that the outcome of the consultation informs the commissioning intentions for 2014/15.
---
Dudley: The Dudley Dementia Pathway & Gateway Service
In 2010 it was recognised that in Dudley we were only identifying approximately a third of the number of people with dementia compared to the suggested prevalence for our population and there was limited on-going support for patients.
The service innovation
The Dudley Dementia Pathway that has been produced provides a single point of access for GPs and other health and social care professionals who can refer for assessment to specialist nurses. A central dementia register has also been developed in order to capture key details and ensure that people are regularly reviewed. This enables all services to access key information to aid decision making and prevent unnecessary hospital admissions and support early discharge.
All those diagnosed with dementia are referred on to the Dudley MBC Dementia Gateway Services and are allocated a dementia advisor to ensure support and on-going positive outcomes for the patient and their carers/families.
Outcomes
Diagnosis rates for dementia have significantly increased since the inception of the new pathway.
Evaluation has found that the efficiency, diagnosis rates and quality of assessments has improved; and referrals have risen significantly. The dementia advisors meet with the person with dementia, listen to and answer questions, discuss their personalised care plan, signpost to other support opportunities and maintain regular contact with the person.
The Gateways provide a person-centred approach via a one-stop shop of dementia services. It has also helped to reduce stigma by promoting a better understanding and openness of dementia across the Borough. The Gateways support people to remain in their own home and retain their independence, enhance the quality of life for people and their carers; prevent premature progression of their dementia; provide the carer with respite from caring responsibilities on a planned and regular basis; and ensure that all people with dementia have a personalised support plan (with input from the person) that puts them at the centre of the service.
www.dudleyccg.nhs.uk/dementia-and-dudleys-dementia-plans
---
Ipswich & East Suffolk: Integrated Wellbeing Approach
Why we did it?
According to GP Quality and Outcome Framework (QOF) registers from 2010-2011, there was a lower prevalence of mental health in Ipswich and east Suffolk than the England average but a much higher prevalence of depression.
The Integrated Wellbeing Approach was developed to expand the improvements delivered by the Improving Access to Psychological Therapies (IAPT) scheme.
IAPT was implemented nationally as a three year pilot.  During that time it became apparent to GP leaders, our member practices, providers and service users that the IAPT clinical model of care did not provide the holistic approach that was needed to meet both the social and physical aspects of individuals presenting with less serious mental health issues. These limitations were evident in primary care consultations.
What was done?
The new service ensures there is one single accountable provider. This offers GPs a comprehensive service for individuals presenting with lower end mental health issues.  There is a strong emphasis on recovery and empowering service users to take control of their own lives.
The initial concept was developed in partnership with the Department of Health, Sainsbury's Centre for Mental Health and the GP Mental Health Network.
The CCG collaborated with West Suffolk CCG to design a service across Suffolk.
Mental health lead GP Dr John Hague, led a comprehensive engagement programme to refine the concept and develop the specification.  This included providers from all sectors, service users, carers and social care.  The work with service users was extensive and their views were represented in the final specification.
The final service specification for the Wellbeing Service:
Fulfils the requirements of the IAPT model
Integrates seamlessly with secondary mental health services and brings together a range of mental health providers
Is accessible to the whole population, aged over 13 years
Focuses on early intervention, prevention and recovery
Empowers people to manage their own mental wellbeing
Meets the outcomes of the cross government strategy 'No Health Without Mental Health'
Offers mental health support for people with long term conditions and medically unexplained symptoms.
Achieves QIPP targets, including financial savings
How was this achieved?
The CCG was an innovator in recognising the gap in service for children and young people, and people with long-term physical conditions and medically unexplained symptoms not covered within the Psychological Therapies Service (IAPT) or secondary care mental health service.  The GP experience of these service gaps in practices was instrumental in designing the comprehensive specification.
The tender process sought a single accountable provider who would subcontract from local third sector organisations in order to support and enhance the local market.  The procurement evaluation panel was led by GPs with managers and Suffolk County Council.
What benefits were achieved?
Improved understanding of procurement process and importance of clear contractual arrangements
The new provider began operating in July 2012.  The CCG has learnt valuable lessons regarding the importance of clear contractual and governance arrangements as a result of this complex re-commissioning project.
New Wellbeing Services quality standards
The project benefits realisation plan will be monitored contractually.  This is expected to deliver:
Access standards of 10 working days from referral for all step 1 and 2 therapies and 28 working days from referral for step 3.
Quality standard 60% recovery rate (50% national target for conventional IAPT).
People are supported to live in their local community as independently as possible.
The service intervenes early in a person's mental health with the lowest level, least intrusive, and most effective intervention.
The service offers a bio-psycho-social model of care to maintain and improve social inclusion and remove stigma
The service works collaboratively with a range of different organisations including the contracted partners, other NHS, Local Authority, private and voluntary sector providers.
Education is at the heart of developing robust clinical interventions and supervision with a 'centre of excellence' approach.
The service supports people throughout their life from age 13, as well as their family.
---
Ipswich & East Suffolk: Medicines Management
Why did we do it?
Historically, there was:
Insufficient focus on patients' experience
Poor connection between primary and secondary care prescribing
Little GP or wider clinical involvement
This resulted in:
Significant variation in practices' spend against budget
Inconsistency in quality and safety
Limited perceived incentive for GPs to change prescribing patterns
Strategic significance to CCG:
The success of this innovation enables improvements in quality and productivity through the CCG's eight clinical priorities. It links to one of our eight values to be 'never overdrawn'.
What was done?
There were six key actions:
Prescribing budget was devolved to GP commissioners.
GPs collaborated with clinicians from the mental health and Ipswich hospital to develop aligned formularies.
GPs led the development of incentive schemes, QIPP programmes, and allocated pharmacists to practices.
GP locality groups provided forums to involve member practices in decision making.  This represented a significant shift away from the previous top-down culture and practices shared good practice with peer group challenge of benchmarked data.
GPs fed back anonymously directly from patient engagement e.g. discussions with representative groups such as Coeliac UK and wider community groups.
GPs and pharmacists collaborated with peers in West Suffolk to share good practice and develop some Suffolk-wide approaches.
How was this achieved?
Five specific examples are:
GPs developed a programme of simple medication switches to facilitate cost effective prescribing.  This included changing branded products to the generic equivalent.  Practices stopped prescribing drugs with limited evidence.  Prescribing of glucosamine stopped leading to savings of £0.5million.  Patients were offered written information about changes and the pharmacists worked closely with GPs and PALS to ensure any queries were responded to rapidly.  Learning from PALS queries has informed other patient communication and evaluation of specific initiatives.
Dietetic prescribing was an area of growth, with secondary care having significant influence over this.  GP leaders worked with Ipswich hospital dieticians and pharmacists to reduce spend and improve quality and consistency.  GPs consulted member practices through locality groups who agreed to:
a new service specification for the community dietetic service provided by Ipswich hospital for inclusion in the 2012-13 contract;
development of an agreed formulary with secondary care for sip feeds; the main service level agreement with Ipswich Hospital was varied to include the formulary along with contractual consequences if prescribing outside the agreed formulary occurred
recruitment of a dietician to work with practices and care homes delivering training and education to improve clinical confidence and skills across the CCG
an increase in patient information recorded.
Ipswich and East Suffolk collaborated with West Suffolk to develop Suffolk-wide programmes including redesign of oxygen therapy services.  GPs were encouraged to refer all patients needing oxygen to the specialist service for review and prescribing of oxygen if required.   The service is run by specialists, available seven days a week with telephone access. This improved quality and safety and patient access and has delivered in year savings of around £0.7million.
In consultation with the local branch of Coeliac UK, GP champions developed a gluten-free formulary and patient information leaflet. Member practices felt passionately about this development to ensure greater consistency and cost effectiveness in gluten-free prescribing.
GP leaders agreed safer prescribing guidelines for patients requiring anti-psychotic medication with senior clinicians from the mental health trust. Member practices approved the final guidelines.  Senior psychiatrists provided training for GPs.
What were the benefits?
Engagement:
GP leads directed a vast improvement in peer-led practice and a cultural change among GPs' prescribing patterns, with tangible patient experience and financial benefits.  This has set a precedent for GP engagement in reviewing all types of practice-level benchmarked data, and the culture of peer challenge has become normal practice in locality groups and individual practice meetings.
Improvements to Quality and Safety of Prescribing:
The development of formularies, ensuring consistent prescribing across primary and secondary care.
Improvements to Patient Experience- Improved processes and confidence to engage patient and representative groups in changing way medicines are used.
Financial – At the end of 2011/12, the Ipswich and East Suffolk GPCCs prescribing budgets were under spent by £3.4 million.  Eight previously overspent practices came in on budget.
When the two GPCCs merged, new, ambitious QIPP plans were agreed, including identification of further savings of £2.1 million.
To date, the prescribing budget is a further £1.2 million under spent (August 2012 data) in addition to the planned QIPP savings.
---
Ipswich & East Suffolk: Advance Care planning for end of life
Why did we do it?
Healthcare workers were not routinely discussing end of life care with their patients.  There was an uncoordinated approach to training leading to inconsistency in quality.  Terminally ill patients were often rushed into hospital which was distressing for family and carers. Ambulance services were stretched; patients had unnecessary hospital interventions and expensive hospital admissions.
What was done?
Dr Paul Driscoll led discussions at locality groups with member practices to review benchmarked practice data and present the case for change.
Clinicians from the ambulance service, out of hours and care homes were engaged in the design of the project.
Member practices approved the final project through locality groups and adopted the scheme through a staggered roll out.
The project aimed to enable patients to choose their place of death, reduce patient and carer distress and unnecessary hospital admissions.
How was this achieved?
Identification and involvement of relevant patients
Patients likely to die within 12 months were identified by multi-disciplinary teams.  Patient wishes were recorded and individual care plans were agreed and recorded in a yellow folder.
Communication across health economy
Individual care plans were shared with the out of hours and ambulance services to ensure patients' wishes were recorded in their respective systems.
Clinician education
A comprehensive approach to training was implemented to increase skills and confidence and a common approach adopted by providers.
What were the benefits?
Improved integration across end of life services
This innovation has led to an integrated approach between care homes, GPs, community, out of hours and the ambulance service enabling patients' choices to be met.
Evidence of training embedding new practices
Feedback from GPs and care homes has been positive:
'I will be able to initiate the end of life conversations with confidence earlier'
'I can explore the whole concept of end of life in a new way'
Initial benefits
In 2012/13, 54% of people in east Suffolk died in their own home, compared with 48% in 2010/11.
The CCG has compared statistics between non-participant and participant care homes:
For patients in a participating home at the time of death, 7% of deaths occurred in hospital compared to 19% in a non-participating
The CCG has evaluated the pilot and agreed to commission this service on a permanent basis. The CCG has collaborated with West Suffolk CCG to share this example of innovation and it is now being adopted in the West.
---
Ipswich & East Suffolk: Osteoarthritis hip pathway
Why did we do it?
The number of elective hip replacements in Ipswich and East Suffolk increased by 14% from 2009-2011.
Evidence from NICE has indicated that structured exercise, information and education would initially be of greater benefit for some patients than surgery as the first option.
The GPCCs selected orthopaedics as a focus of its 2011/12 planned care QIPP programme and was delegated responsibility for the acute activity commissioning budget.
The vision was to help patients self manage when clinically appropriate and supported in making informed decisions about surgery.
What did we do?
A new pathway was designed led by Dr John Havard in collaboration with orthopaedic consultants, member practices and physiotherapists. The decision to approve the service redesign was taken by member practices through the four GP locality group meetings.
The pathway ensured GPs triaged hip patients and agreed with the patient the most appropriate treatment.  The pathway ensures patients are knowledgeable and physically prepared for surgery prior to referral.
A comprehensive clinician training programme was developed and delivered to GPs.
How was this achieved?
Pathway redesign involving cross functional teams and new outcome metrics
The pathway split patients into two streams:
Patients with established OA hip disease not requiring immediate surgical intervention offered a programme to manage their condition.
Patients with advanced OA hip disease offered a programme preparing them for surgery and aiming to improve their post-operative outcome.
A local GP led the development of an innovative score system for patients to identify which stream the patient would be best served by.  The resulting 'Suffolk Score' took into account the results of physiotherapists' assessments, X-rays and consultant surgeon outpatient assessments.
Clinician engagement
A GP education event on the hip pathway was held in March 2012.  GPs reported greater confidence in recommending a range of options for patients in addition to hip surgery.
The service was piloted in five practices; which enabled the early adopters to become advocates with clinical peers.
What were the benefits?
Reduction in referrals and procedures
Emerging evidence suggests that there will be a reduction in primary hip replacement procedures of up to 5%, with high levels of patient satisfaction and improved post-operative outcomes.
There is a reduction in referrals to Trauma and Orthopaedics for hip surgery.  The impact is not yet seen on activity as the aim is to bring referral to treatment times to 8 weeks from the current average of 14 weeks.
Patient satisfaction
Surveys show improved patient outcome measures:
Patients would recommend this programme (scoring on average 8.8 out of 10)
Patients scored the relevance of their exercise sessions on average 3.7 out of 4
Satisfaction with guidance on the exercises on average 3.6 out of 4.
Likelihood of continuing with exercise is 3.6 out of 4
Ipswich and East Suffolk CCG is developing a similar approach for a knee replacement pathway, commencing in November 2012.
---
Birmingham South & Central: Primary Care Qipp Scheme
In March 2012 the BSC Commissioning Programme Board identified Primary Care as a in the development and delivery of BSC's Primary Care QIPP Scheme. The group included a GP and practice manager representative from all BSC clinical networks.
This group identified a number of QIPP areas where GP practices were likely to have the greatest influence on activity, and therefore the greatest potential for delivering QIPP efficiencies. The areas identified were:
New Outpatient attendances
Follow-up Outpatient attendances
Accident and Emergency attendances
Emergency admissions
During 2012/13, practices were expected to deliver a range of practice-based interventions aimed at improving clinical quality and the efficiency of resources.
Practices were expected to achieve reductions of 3.5% on 2011/12 levels in two of the four identified areas, and maintain activity levels in the other areas.
Analysis of Activity Data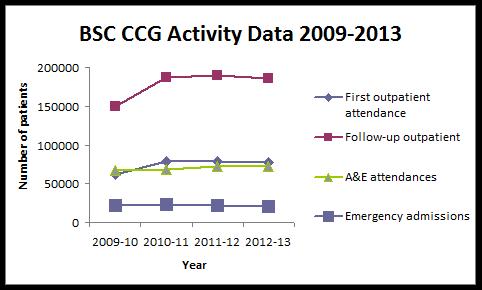 The chart indicates that the Primary Care QIPP Scheme has succeeded in reducing activity levels in all four areas that were targeted by the CCG, thereby yielding significant savings that may be reinvested in other aspects of care.
Maximum cost of Scheme = £493,038
Total QIPP Savings = £2,183,741
Net QIPP Savings = £2,183,741 – £493,038 = £1,690,703
Return on Investment = 3.4:1
Further Detail
Richard Mendelsohn – Clinical Head of Commissioning – rmendelsohn@nhs.net
Simon Doble – Senior Commissioning Manager – simon.doble@nhs.net
Birmingham South Central Integrated Plan 13/14 – 15/16 – Section 9: Priorities and Commissioning Intentions – https://www.bhamsouthcentralccg.nhs.uk/images/BSC_Integrated_Plan_v2.1_KMS_Portal.pdf
---
South Worcestershire: Improving End of Life & Palliative care
South Worcestershire have been delivering a clinically led, whole systems approach to redesigning  and improving the quality of services for patients at the end of life. The  clinical champion, Dr Blaine  and the programme lead from the CCG have been working in collaboration with the other 2 CCGs in Worcestershire and providers across the whole end of life pathway to:
Enable staff from all sectors to engage in end of life care and empower them to enable patients and their families to make informed choice, plan for the future and access excellent care at the end of life.
Enable people regardless of their diagnosis to live well until the end of life.
Increase the proportion of people who are enabled to die at home. The proportion of patients who die in the Acute hospital have been reduced from 45% to 38% as a  result of this work.
Saved £500,000 in acute care costs year on year for the past 3 years  that have been redirected to improve care for patients in the community.  
The commissioning team engage with stakeholders from Health, Adult Social Care, patients & carers groups and the voluntary sector to make this happen.
The project has recently been shortlisted for a HSJ efficiency award for community care.
---
Coventry: PMC's
"Practice Medicine Coordinators (PMCs) have greatly improved the quality of repeat prescribing as well as increasing efficiency and reducing waste." Sarah Knight, Practice Manager, Windmill Surgery, Coventry
Reason for change
In January 2012, it was estimated that £4-6m of prescribing costs in Coventry resulted from inefficiencies and waste. The reasons for this included:
Poor or non-existent repeat prescribing systems
Poor, or absence of medication review systems
Poor prescribing cost effectiveness
Burgeoning prescribing waste
How was the change made?
In most cases, reception staff from surgeries were trained to become PMCs at AFC band 4 and their substantive roles were backfilled.
PMCs:
ensured that dose instructions appeared on all repeat prescriptions
removed unnecessary repeats from repeat lists
identified brand to generic switch opportunities
changed repeat prescription length to 28 days to reduce waste.
Each practice was funded for a 0.5WTE PMC.
Impact of change
Over half of practices in Coventry now have a PMC. Quality improvements have been made including improvements in repeat prescribing systems, reduction of unnecessary repeat medication ordering and quantity synchronisation.
The full year investment to employ and train PMCs was £82K and this is projected to realise savings of over £110K in a full year.
---
Coventry: Telehealth
"I wasn't sure about using telehealth at first but my Community Matron explained it all to me and it is simple to use and reassures me if I'm having a bad day. We looked at the patient information that will be given out and produced a 'Frequently Asked Questions' guide to answer the questions that we asked when we first found out about telehealth to help other patients like us in Coventry."   Patricia Roche, Patient currently using telehealth.
Reason for change
Simple Telehealth (STH) helps patients self-manage their conditions in order to stay healthier and make more appropriate use of NHS service. It was therefore vital that patient information was easily understandable for the best chances of influencing a lifestyle change such as taking medication regularly or submitting readings.
How was the change made?
Contact was made with specific patient groups who have previously shown an interest in long term condition care. The groups discussed patient information documents and produced a 'Frequently Asked Questions' (FAQ) sheet aimed at patients and carers.
Impact of change
FAQ sheets will now be distributed to all patients on initiation of STH and contributes towards achieving the goals of telehealth.
---
Coventry & Rugby: NHS CRCCG Clinical Engagement in Commissioning
"Engaging clinicians in setting commissioning intentions has enabled efficient and high quality service redesign, providing better access to services for patients as well as realising efficiency gains throughout the mental health and learning disabilities services." Dr A Canale-Parola, GP, Chair NHS Coventry and Rugby CCG
Reason for Change
'Out of Area' patients incurred a huge cost to the commissioner with limited control over how this funding was spent.
Mental Health pathways were inconsistent across Coventry and Warwickshire and patients did not routinely have access to the full range of services available.
How was the change made?
Returning Out of Area patients into care within the area was a priority. Coventry and Warwickshire organisations worked closely together to develop joint pathways to provide consistency across the area and eliminate a local postcode lottery. Strong clinical engagement was needed to enable involvement in setting the commissioning intensions.
Impact of change
The working group with strong clinical representation enabled quality and efficiency improvements; for example, a dementia pathway was redesigned to combine two separate appointments into one which provided a better patient experience
£1.6m saving has been gained from the Out of Area repatriation initiative in 2011/12. This is projected to have a full year effect in 2012/13 of around £3m.
---
Hertfordshire: Involving Patients & Public
Long Term Conditions form an integral part of Herefordshire CCG's  programme of pathway developments for Frail Older People in Herefordshire ; one key element of this is improved self management.  Involving patients and their carers in the development of this is also central to the CCG's philosophy of putting patients at the heart of everything we do.
A Patient Held Record is patient owned document that provides key information on diagnosis, treatment and medication as well as a care plan to support personalised goals to aid self-management. To take this work forward the Diabetes Patient Held Record Development Group was established to act as a core reference point for this development. A co-production approach led to the design and implementation of the patient held record.
The group consisted of patients (local Diabetes UK group) and their carers, Clinicians and Clinical Commissioners. Primarily it aimed to
Address a need highlighted by people locally
Maximise the participation of the person in personalised care planning and decisions relating to their treatment and care
Promote self help and support for people with Long Term Conditions
Improve the recording of care for people with Diabetes locally
Promote patient and carer education and information
Improve communication along the patient pathway
Understand and improve the patient experience
Undertake a programme of engagement and involvement to support the development of the PHR
This work was undertaken in partnership with local Diabetes UK support group, as well key clinicians at Wye Valley NHS Trust and also involved the expert patients programme.
All collated feedback and suggestions, via workshops and patient groups, were reported and reviewed by the Diabetes PHR development group. This contributed to the development of an Action Plan which is now being implemented.  Outcomes measures to review the benefits of the diabetes pathway were also developed by users and clinicians (clinicians and patients will also contribute to the evaluation process) these included:
Improving communication and involvement of patients in decisions in relating to their treatment and care
Lifelong record of care – promoting continuity of care and sharing of agreed information along the patients pathway
Improving Patient Experience
Enhancing self-management skills as supported and advised by clinicians
The evaluation will also involve capturing patient stories and experiences. Initial feedback of the patient experience has been positive and has been shared at the CCGs GP Parliament (by the patients and carers themselves) and also on local radio.
The PHR for Diabetes will support further modelling for a more generic patient held record for people living with long term conditions and further work is underway to develop specific sections within Diabetes PHR for children with Diabetes, especially for teenagers to support transition to adult services.
---
NHS England: Improving Equity of Access to Specialised Communication Aids
From the 1st April 2013 NHS England became responsible for the direct commissioning of specialised assessment and provision of Augmentative and Assistive Communication Aids (AACs).  AACs are communication systems that enable people who have lost, or never had speech or language to interact with their world, often allowing them to engage and be successful in education, vocation and work. AACs range from paper based communication tools to digital and electronic voice or text aided communication equipment devices.
Previously there had been significant national variation in access to AAC assessment and equipment, but from 1st April 2013, specialised AACs are now commissioned under a single national service specification setting out the standards of care expected.  The Area Teams of NHS England have been ensuring that these specifications are firmly tied into the contractual arrangements with relevant providers.  This is a first, but important, step in ensuring robust and consistent services are in place for individuals across England.
Area Teams will also be undertaking gap analyses with providers, to ensure that key specification requirements are met as soon as possible and that there is increasingly equitable access to care across the country.  Patient and stakeholder feedback will be a key part of process of determining progress against this important NHS England priority.