---
Wolverhampton: Quality matters – patient feedback
Service Area
The CCG recognised the need to systematically collate both quantitative and qualitative information with regards to services being provided in the City. Quality Matters was launched as a facility available initially to GPs in Wolverhampton [and associate commissioners, such as South Staffordshire] to harness GPs and/or their patients with the facility to provide feedback on the quality of care and to raise concerns appertaining to this.
Reason for Innovative Approach
At the time, the PCT was in transition to becoming a CCG and opportunities were recognised that would enable relationships to be forged within the new structure and among GPs in the city.
A review of quality reporting systems enabled the Quality Team to develop a process where concerns, raised by clinicians, associated with safety, effectiveness & experience could be raised in a structured way. The criteria were defined along with a process for responding to and resolving such issues in the form of a mini investigation facilitated by the Quality Team.
The new process enabled learning to take place, strengthen relationships with GP colleagues but also demonstrate the organisations commitment to understanding the experiences and difficulties of patients and clinical colleagues who use those services commissioned by the CCG.
Detail of Changes Put In Place
A structured approach to the way in which information was shared, considered and investigated, fed back and closed down was introduced.  The initial launch took place in conjunction with the local acute trust who embraced the opportunity to learn from GP colleagues where experiences of their organisation could have progressed differently.  In addition, the GPs recognised that they were able to use this facility to clarify/query systems & processes operated by the trust as an opportunity to keep up.  The trust also launched a GP Information Resource via their website enabling practices to login us and raise queries that weren't questioning quality of care.
Results/Outcomes
The success of Quality Matters was quickly recognised via monitoring that was introduced to Quality Review Meetings, Quality & Safety Committee and triangulation of information with commissioning colleagues that has enabled improvements in commissioning and indeed quality of care received by patients in terms of the safety of services, patient experience and clinical effectiveness.
The CCG have also introduced this model to the mental health trust in the same way as outlined above in order for quality issues to considered with all importance as an opportunity to demonstrate that the CCG really does care about the quality of services it commissions.  This intelligence is used to inform commissioning decisions and routinely included the review of services.
The most recent development includes introducing Quality Matters to the care homes sector enabling the CCG to support the sector in strengthening their relationships with fellow providers of health care and essentially addressing the shortfalls experienced with community services.
Details For Further Contact
For further details and a copy of the process model please contact Sarah Southall, Head of Quality & Risk, Wolverhampton CCG, 01902 444517.
---
Nottingham North & East: The Health Inspectors
People with Learning Disabilities (LD) struggle to be heard. In a patient partnership Nottingham North and East CCG is working with a group of people with LD The Health Inspectors.  By talking to patients and their carers about their experiences this clinically led collaborative aims to:-
increase patient participation
spread knowledge and learning of their health issues
enable people with LD to communicate health issues to peers
improving opportunities for inclusion at a primary care level
Challenges faced are captured through patient stories, drama and videos. One-to-one in-depth interviews are providing valuable feedback, with future bespoke training for healthcare professionals to be delivered.  Findings:-
Better two-way communication – Healthcare staff worry they won't understand the patients. Patients don't have the confidence to speak up.
Patients don't access the services they need – Lack of awareness or carers not encouraging access e.g. Health Checks.
Lack of access beyond clinical services e.g. PALs, Complaints – Take up is actively promoted with re-assurance.
Results include an increase in LD Health Checks from 68% (2012) to 79% (2013).
The award winning Health Inspectors are now a part of NNE CCG's infrastructure and continue to relate their stories.
---
Rushcliffe: Patient & Public Involvement
Patients and the public have been at the heart of decision making for six years in RCCG's predecessor organisation Principia, earning a national reputation for progressive PPI.
RCCG has established a system of patient, public and carer involvement that enables genuine participation in decision making across the organisation from individual patient decisions to the Governing Body.
Andy Warren, the Chair of Patient Cabinet states:
"The contents of … the initial strategy for the new Rushcliffe CCG reflects the joint input and endeavours of all parties involved in bringing the new organisation to fruition. The early involvement of the public and patients has strengthened the already robust relationships that existed in the former Principia Partners in Health and it will form a strong foundation for the way forward for the CCG in the new environment of being a statutory NHS organisation."
All RCCG commissioning decisions are considered by the Patient Cabinet and patients are actively involved in Task and Finish groups looking into specific service redesign initiatives, for example, there has been significant patient involvement in designing, procuring and evaluating services:
Community diabetes service.
Urgent Community Support Service
RCCG leaders have a high profile locally and are recognised to be accessible.  Patient Cabinet members have equal standing to other leaders in the CCG and there is a culture of openness, transparency and sharing both within the CCG and externally.
Patient and Public Involvement (PPI) Case Study – Governance structure
Patients and the public have been at the heart of decision making for six years in RCCG's predecessor organisation Principia, earning a national reputation for progressive PPI.
The former patient reference group developed the PPI model for the CCG recognising the different responsibilities and accountabilities of a CCG.
The current governance model includes:
The Patient Cabinet – a committee of the Governing Body, with equal authority to the Clinical Cabinet.
The Patient Active Group – the main vehicle for collecting and disseminating information. Membership includes a range of Patient Participation Group chairs and partner organisations
Rushcliffe Health Network (RHN) – an 800 strong virtual group of people interested in the work of RCCG, and is a mechanism for wider public and patient feedback.
Task and Finish groups – patients are actively involved in looking into specific service redesign initiatives.
RCCG commissions:
Rushcliffe Community Voluntary Service (RCVS) to facilitate broader public engagement
Patient Opinion to provide an independent communication route for patient
RCCG communication includes:
The Rushcliffe Borough Council newsletter 'Rushcliffe Reports' that is delivered to every household twice yearly.
The RCCG website and social networking media.
A newsletter 'Healthy Times', this is circulated electronically and in hard copy through member practices, libraries, pharmacies, leisure centres, pharmacies and parish offices.
RCCG also run a variety of Health Festivals and public events such as Rush4Health to engage the whole community.
---
Shropshire & Staffordshire,Telford & Wrekin: Improving Peoples experience of integrated care
Shropshire and Staffordshire health economy are piloting a self-care management application via a digital online portal called Health Fabric. The application was chosen as one of the ten Department of Health supported apps 2013 and was launched at Expo 2013.
Health Fabric is an app that can be downloaded on to mobile devises such as tablets and phones, which helps patients manage their health and is linked to people and health care professionals involved in the patients care (GPs, carers, family). It has five main areas:
Access to my health information
Gives me help and support
Helps me find the right support
Coordinate my needs with people who care for me
Provide alerts to take action
Health measurements
The pilot is multiagency involving Shropshire County CCG, Telford and Wrekin CCG, Shropshire and Staffordshire Area Team, patient leaders and is based on a self-care management model. All patients in involved in the pilot will be invited to attend a training programme which demonstrates tools and techniques to support self-care management. The app has the functionality to synchronise with GP EMIS Web and the pilot is trailing this around appointment booking, repeat prescribing and online monitoring.
During 2013, a license has been bought to support 200 patients to use the application across Shropshire, Telford & Wrekin and Staffordshire which will be evaluated by Warwickshire University during 2013/14.
For further information contact Sian Huszak sian.huszak@nhs.net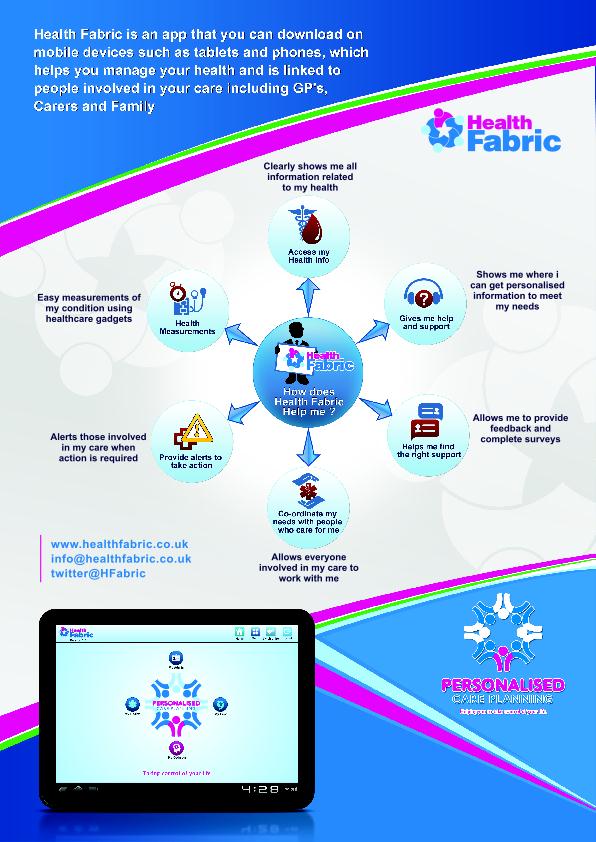 ---
Stoke-on-Trent & North Staffordshire: Creating a Quality Culture
Our work creates a single database and collates aggregates and triangulates feedback from patients about their experience of services, feedback from clinical staff in both primary and secondary locations and feedback from GP practices about incidences.
Patient feedback comes from the complaints, PALS, PPI, media/social media and is entered by the CCG, CSU, AT, GPs and LA. The clinical feedback comes from GPs, nurses and Consultants to raise concerns about care and incidents which are reported by Primary Care and the system combines patient experience, safety and clinical effectiveness into one real-time dashboard which gives a holistic overview of quality.
The work has its genesis in the David-Colin-Thome report into Mid Staffs where the need for a single place for patient feedback, clinical feedback and incidents with real time reporting was highlighted as a requirement to prevent reoccurrence of the issues. The work started in a PCT in 2010 with patient feedback, was then rolled out to 5 CCGs and is in the process of rolling out to an additional 3 CCGs. From this work in 2012 it was decided to incorporate clinical feedback and incidents into the database and report this information in the same way as the patient experience feedback, thus creating a quality feedback system. This work was pioneered by Stoke-on-Trent CCG and has seen the patient experience feedback, clinical feedback and incidents rolled out to all 54 GP practices with the local authority contributing via the JCU. All Practice Managers enter, update, action and see real time dashboards as well as CCG, LAT, CSU and LA staff. The real time experience dashboards are configurable based on the portfolio of the user, i.e. commissioners for heart services will see all of the clinical feedback based on Patient and incidents relating to heart services.
Our objectives were to:
Provide one single place for all patient experience, clinical and incident intelligence to provide a holistic view of areas for improvement.
Triangulation of the three elements of quality to see the bigger picture.
To prevent the likelihood of a reoccurrence of Mid Staffs by allowing all staff to view data in order to take action of the findings.
To gain the greatest amount of intelligence from local data by using the national recognised domains of patient experience to record data and to triangulate local and national data to identify themes and trends.
To capture clinical feedback via a real-time system with ease of access and ability to view all data in real time.
To provide opportunities for action based on multi stranded quality data.
The initial project was undertaken in one PCT and work was rolled out to 9 CCG's to pick up the patient feedback. As a result of the success of the patient feedback, Stoke-on-Trent CCGS decided to work with the CSU to take the same approach to primary care incident reporting and clinical feedback using the same system configurations to capture the data.  The design to dashboards then incorporated data from the three distinct strands of quality and displayed as a whole. The data could also be displayed by provider, department, etc. with the use of data sharing agreements.
As a result of the system we have been able to respond to patient experience feedback real-time with monitoring visits to our provider wards, we have been able to identify key themes and trends from multiple sources and have put actions in place to resolve.
---
Lincolnshire East: NHS 111
Lincolnshire was a pilot community for NHS 111 and so, when the time came to transfer to a newly commissioned provider, it was essential that the service continued safely and with the minimum of disruption. Links to out of hours services were particularly critical, with NHS 111 being the sole route of access for patients. The long winter had left the urgent care system under pressure and the new provider was going to find the go-live challenging.
Lincolnshire East CCG responded by forming coalition of clinical commissioners and leaders, NHS 111 current and incoming providers,  and the out of hours service – provided by Lincolnshire Community Health Services. By exploring a number of scenarios together a staged go-live was gradually mapped out, with the incoming and outgoing NHS 111 agencies providing a shared response at peak times, assisted by the OOH provider who had to work flexibly for periods between two 111 pathways.
The LECCG clinical leader for urgent care led the clinical assessment of the approach, identifying and mitigating the risk to allow the go-live to proceed. This strong clinical leadership and contribution from all parties allowed the service to go live on time, with a positive subsequent review by the Lincolnshire Health Scrutiny Committee.
---
South Norfolk: Patient Choice
As part of the drive to improve Patient Choice and the accessibility of information, South Norfolk Clinical Commissioning Group has developed a campaign to raise awareness of a range of services being provided in community-based locations for patients living in South Norfolk.
Procedures – such as endoscopies, audiology services and ultrasound scans – are being provided at locations that may be more accessible to patients and have potentially shorter waiting times, as well as meeting national patient quality and safety standards.
South Norfolk CCG has developed a fortnightly-updated information sheet for patients and clinicians that outline the range of local providers, where services are being offered, and an indicative wait period for procedures.
The CCG has developed this campaign in response to clinical interest in improving the experience of patients in living in South Norfolk, and has encouraged patients to access and discuss this information with their GPs.
Chair of South Norfolk CCG Dr Jon Bryson comments: "The CCG has developed this innovative campaign by working closely with clinicians, providers and patients in our locality. Most importantly, we are promoting this information as part of our commitment to improving patient's choice regarding where and when they receive care, with continual emphasis on developing and improving this information."
---
Norwich: Early Warning System
Norwich CCG has developed a web tool to capture vital soft intelligence from member practices. Virtually all patients are seen in primary care prior to, and following, a referral for assessment or treatment, making primary care a rich pool of soft intelligence. GPs wanted to be able to relay this information, while making it quick and easy to fit within a busy working day.
A project was commissioned with a local web designing company and the result was the creation of 'Sick-Advisor'. Sick-Advisor is a web based solution, developed for clinicians to capture 'in the moment' feedback from patients, relatives and carers. The simple '3-click' system allows the clinician to record a rating and a comment for providers ranging from acute hospitals, community services, care homes, and domiciliary care. This feedback is reviewed as part of the CCG's quality assurance processes and triangulated with other information available to the CCG.
This provides an effective early warning system that is able to pin point areas for further scrutiny should a theme or trend occur. Sick Advisor does not replace formal reporting of serious incidents but aims to quickly capture soft intelligence from the people closest to the patient.
---
South Worcestershire: Primary Care
Primary Care meet with the CCGs on a monthly basis, to discuss how to improve the quality of services provided, to share good practise and to develop a programme of shared visits to the practices where concerns are highlighted.
By examining the Assurance Framework, triangulating patient survey data, complaints, QOF, and enhanced service activity, primary care highlighted a practice where there were low levels of concerns, although not an overall outlier in the Framework.
The CCG highlighted the same practice through their Improving Quality Supporting Practices Initiative, where each practice receives visits by peers to discuss achievement against a different range of indicators and CCG priorities.
The CCG contacted the primary care team and it was agreed to share non identifiable patient data to identify priority concerns. A joint team visit to the practice was agreed to provide further challenge to initiate change. Both teams are working together to suggest solutions such as leadership and support from the CCG practice nurse facilitator and changes to appointment systems to provide better patient outcomes.
---
NHS England: Patient & stakeholder Involvement in Developing Models & Standards
Since April 2013, prescribed specialised services have been commissioned by NHS England, operating as a single commissioner.  This means that specialised care is now being offered in line with a single national set of published service specifications and policies, offering high quality and more consistent and equitable care to patients.
This change provides an unprecedented opportunity to build on the way in which we engage with patients and other key stakeholders, to reflect their feedback on their experience of specialised services, to help shape our priorities and to directly involve a wide range of stakeholders in developing national models and standards of care.
During 2013/14 we are doubling the number of patient / carer representatives on each of our advisory clinical reference groups (CRGs), extending the period of time for public consultation on any proposed changes to specifications and policies, providing the opportunity to anyone with an interest in a specialised service to register their interest with a CRG and become informed of, and involved in, their work, and developing more accessible summary versions of national documents with the help of patient groups.