NHS RightCare High Intensity User Programme is awarded the Kate Grainger Compassionate Care Organisation Award
Why we aren't we doing something like this nationally?
Asked outgoing NHS England Chairman Professor Sir Malcolm Grant at the Kate Granger Awards for Compassionate Care at Expo 2018 on 5 September 2018 before presenting the Organisation award to the NHS RightCare High Intensity User (HIU) programme team.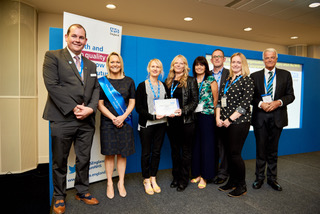 First established in 2015 in Blackpool, the programme aim is to work with the cohort of top 50 high intensity users of A&E services by; personalising care, de-escalating issues and managing relapse. The programme and service has since spread across a number of CCGs with 39 local health systems indicating implementation and a further 60 systems in development or discussion to progress this intervention.
The HIU programme provides a person with a mentor who supports them by accepting and caring for them as they are. They are supported through periods of crisis and pre-crisis to help recognise patterns of behaviour and "triggers" that could lead to crisis before it happens. At these times, users are encouraged to call a dedicated contact that will de-escalate harmful rumination or help them avoid crisis point.  Each call usually takes 3-5 minutes and prevents them ending up in A&E or custody.
Supported by NHS RightCare, local health systems prepare their own data identifying the size of the problem in their area and identifying suitable High Intensity Leads to deliver and mentor people identified in this cohort.  The HIU programme first used in Blackpool, identified that staff supporting individuals could be at risk of burnout, to prevent this, managers are required to monitor the mental health and wellbeing of staff through regular coaching sessions to maintain the network of support.
On 18 October a national event, chaired by Rhian Monteith, the initiator of this work in Blackpool, will be hosted in London for all health systems (CCGs, STPs, ICS') to hear direct from people who have benefitted from the programme, HIU leads from systems across the country, providers and commissioners and the National NHS RightCare team to understand how the programme can be implemented and the process behind it.
For more information and to register for this event, please visit the NHS Event page.