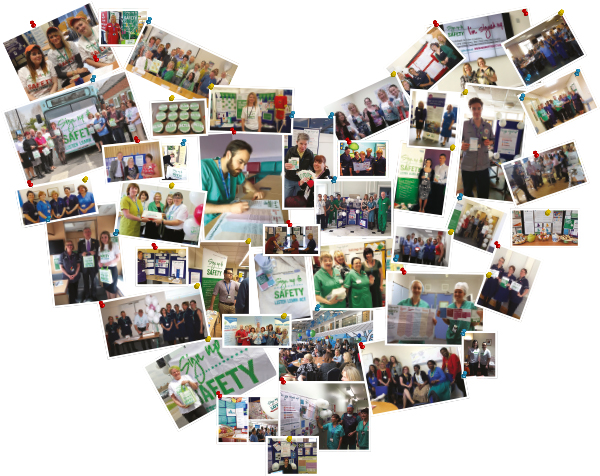 Sign up to Safety is a national initiative to help NHS organisations and their staff achieve their patient safety aspirations and care for their patients in the safest way possible. 
At the heart of Sign up to Safety is the philosophy of locally led, self-directed safety improvement.
Through our actions we want to create a joyful, trusting, open and optimistic approach to patient safety improvement; empowering and enabling our members to make the changes they want to see in their work. We see each day and every action as an opportunity to learn and improve and we welcome everyone who wishes to get involved.
We want our members to feel that they have the power to make a difference. Our role is to help them create a positive and strong safety culture that will stand the test of time. We do this by sharing and celebrating progress and providing practical support and guidance through digital channels and social media; making it quicker and easier for our members to find what they need to know, to be inspired and motivated to keep going.
Over the last fifteen years there has been a concerted effort to improve the safety of patient care but achievements have not progressed as much as anticipated or been sustained in the long term.  We are challenging ourselves and our members to question everything and re-think patient safety in order to consider what could be done differently over the next fifteen years to create longer lasting change.
We shape our work around the following key questions, which help us remain open to learning;
How can we create lasting change and a future where patients and those who care for them are free from avoidable harm? Could we create the conditions necessary for safer patient care together?
How can we create a safety culture that leads to lasting change? If we create a culture where staff and patients are treated with empathy and kindness when things go wrong could we learn more about what we can do differently to make care safer?
What if the solutions and proven interventions exist already? If we can help people with implementation of evidence based interventions and tools will we inspire and motivate people to keep going?
Can we shift improvers from uni-disciplinary approaches focussing on individual safety topics to working inter-professionally and on increasing the reliability of the fundamentals e.g. communication, deterioration? Would tackling these make more of an impact?
Could we approach capturing data, learning from incidents and investigations differently? If we do this will we move away from the culture of blame and fear and actually prevent things from going wrong in the future?
Could we make a positive impact on the safety culture by focusing on helping people speak out, listen and observe what is going on beneath the surface? By placing importance on developing the right conditions to speak and listen, can more be uncovered and understood about what leads to unsafe care?
Find out more about signing up as an individual or an organisation here.