Do you know the 3rd degree tear rate in your maternity unit? – Vivienne Novis
Do you know how many women sustain 3rd/4th degree tears in your maternity unit? Do you know how many complaints and claims you have related to perineal trauma? Do staff in your unit understand the impact that perineal damage has on women and their families? Working as Labour Ward Co-ordinator for Frimley Health Foundation Trust I couldn't answer those questions, and when I came into post to lead the maternity units Sign Up to Safety project I discovered that neither could most of my colleagues!
Our perineal management project was conceived as a result of a possible increase in complaints and litigation related to perineal trauma and in particular 3rd and 4th degree tears. Although statistically we sat within the national average, the opportunity to improve outcomes for women and reduce the costs associated with this event seemed too good to miss. As part of their support for Sign up to Safety, the NHS Litigation Authority provided one-off financial incentives in 2015 to those organisations that evidenced their Safety Improvement Plans would reduce harm and claims. We were successful in our bid and this funding enabled the secondment of me as a full time Band 7 midwife, and consultant obstetrician input for 3 years to support the maternity project which formed part of our wider Sign up to Safety work. This funding also covered patient information, training aids and the new Episcissors-60.
At the beginning of the project I undertook an audit of all the women who had sustained 3rd/4th degree tears in the previous year to try and understand what risk factors we could work with and whether these matched what I found in the literature. The work from Scandinavia proved invaluable as did the Gurol-Urganci HES trial data when it came to identifying potential risk factors. The audit demonstrated that for the main part the risks in our unit matched the risks I'd read in the literature with the exception that our women appeared to be younger and with low/normal BMI.
I sought out as many opportunities as possible to engage with staff and user groups to promote both the local project in maternity and the overarching Sign up to safety campaign. Working alongside two other projects on the general side, having a project manager on the team and getting excellent buy in from senior managers really helped the project to gain a high profile. When we launched the project Trust-wide, cupcakes proved an invaluable tool to extract pledges from staff!, The events were attended by clinical and non-clinical staff across the board.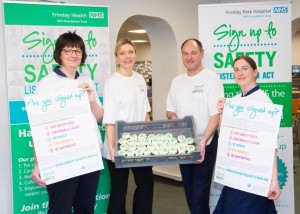 Because I had worked in the unit for a long time and was well known as a Labour ward Co-ordinator I proposed the idea of debriefing all midwives who had cared for a woman who had sustained a 3rd/4th degree tear. I do so in an informal way, encouraging reflection and giving information about potential risk factors and how these might have been mitigated, I've receive positive feedback from staff, particularly around which risk factors their women had, which has enabled them to assess future cases. Recurring themes come out in debrief especially around rapidity of second stage of labour, and I disseminate this in teaching to other staff groups. As far as I know there has been no negativity and I certainly try not to adopt a big brother is watching attitude. After 6 months I now find midwives coming to find me rather than vice-versa!
I've been given a place on our multidisciplinary mandatory update days, preceptorship course and at the local university to access to student midwives and teach the impact of perineal damage and how we might be able to influence this, using the PEACHES acronym borrowed" from Guys and St Thomas's. Additional suturing/episiotomy workshops have also begun in-house that staff can opt in to and have proved very popular and I hope we can increase the frequency and content of these. I work with the risk team managing the incident reports for 3rd/4th degree tears, which means I can record a more comprehensive incident review, including the staff debrief and patient contact on the post-natal ward.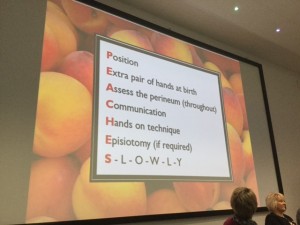 Finding other units to "buddy" with was harder, but after 6 months we have contacts with several other units across the country. I have given patient information to Central Manchester University Hospitals Foundation Trust and St Helier and Carshalton, where I have been invited to speak to their labour ward Co-ordinators in June. I answer enquiries from student midwives covering the subject for their dissertations'.  I shared the PEACHES art work with eight or so specialist perineal midwives' I met at Birmingham Women's' Hospital Foundation Trust. I found that feedback from attending and presenting at maternity events and forums resulted in more contacts than dozens of fruitless email enquiries.
I engaged with user groups via the already well-established maternity unit Facebook page and Maternity Voices, again a forum already well-established in our unit. This led to being able to present the project to the local NCT teachers, with the assistance of a little more cake! New patient information has been completed for women who sustain OASIS (Obstetric Anal Sphincter InjurieS) and one promoting the benefits of antenatal perineal massage. This simple massage technique carried out during pregnancy by the woman or a partner may help to reduce childbirth related perineal trauma.
Hard measures of patient satisfaction and staff engagement are hard to provide, but hopefully the more easily measured number of tears will start to shift as the project progresses. I try and remember that a reduction in reported tears may not be the only measure of success, if the patient experience is improved along with staff knowledge, particularly around diagnosis then maybe that is as important.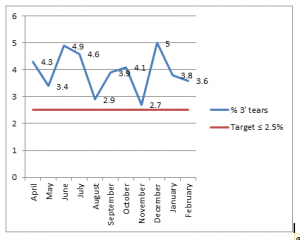 Being part of the Sign up to Safety campaign allowed us the luxury of applying for the one-off funding provided by the NHS Litigation Authority in early 2015, which has given flexibility not often seen in the NHS. The only downside is that time must be allocated to report back to the NHS Litigation Authority where the money has gone!*
The support and resources from the national campaign have proved invaluable too, as has the opportunity to reach out to other forums and trusts. The role of lead Midwife Perineal Management Project gave me complete flexibility to run the project as I thought fit and has enabled me to be fully flexible when opportunities to attend relevant events arise. I try not to turn down any opportunities that arise to "spread the word" and have been reassured to find that other units are doing very similar work. Balancing how much time I spend promoting the project and how much time working in the unit could become a challenge.
The project is now 6 months old (planned for 3 years), and next steps include investigating how we can help the obstetricians improve care of the perineum at instrumental delivery, and implementing the new scissors. I would hope to be able to spend more time as the 2nd midwife at births and working clinically now that many of the initial administrative tasks are complete. I'm conscious of maintaining both my own and the projects momentum but find that returning to the Labour Ward invigorates me. Watch this space for updates and hopefully evidence that we have improved outcomes for women, and made childbirth a less traumatic event.
*The team at Sign up to Safety doesn't ask members to report the progress of their overarching safety improvement plans. However, the NHS Litigation Authority does ask those who received funding from their one-off bid process in early 2015 to report on the impact of that extra investment.
About the Author
Vivienne Novis qualified as a Registered General Nurse in 1984 at St Thomas' Hospital and as a midwife in 1987 at Frimley Park Hospital. She has worked at Frimley Park hospital as a midwife for the last 28 years with last 10 being as a Labour Ward Co-ordinator. Since September 2016 I have been seconded to lead the perineal management Project.
Useful references
Manual protection of the perineum reduces the risk of obstetric anal sphincter ruptures Stine Leenskjold, Lars Hoj,& Jouko Pirhonen – Danish medical Journal 62/5 May 2015
Birth position and obstetric anal sphincter injury: a population-based study of 113,000 spontaneous births Charlotte Elvander et al, BMC Pregnancy and Childbirth (2015) 15:252
Anal sphincter tears: prospective study of obstetric risk factors E Samuelsson et al, BJOG: An International Journal of Obstetrics & Gynaecology, 107: 926-93 July 2000
Incidence of obstetric anal sphincter injuries after training to protect the perineum: cohort study Katariina Laine et al BMJ Open 2012;2
Third- and fourth-degree perineal tears among primiparous women in England between 2000 and 2012: time trends and risk factors I Gurol-Urganci et al BJOG July 2013
The Management of Third- and Fourth- Degree Perineal Tears – Green Top Guideline 29 June 2015 – RCOG
Cutting an episiotomy at 60 degrees: how good are we? Naidu M, Kapoor DS et al Int Urogynecol J. 2015 Jun;26(6):813-6.