Our clinical handover journey so far – Victoria Murray
This is my first dip of a toe into blogging please be bear with me as I try and put my thoughts onto the page
Let's start with introductions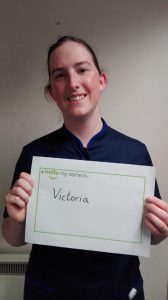 Hello, my name is Victoria Murray and I am the Clinical Handover Matron and in October 2015 I joined the Sign up to Safety Team at Frimley Health NHS Foundation Trust.
Sign up to Safety – a brief overview
For those of you who have been hiding in caves or other dark corners and haven't heard Sign up to Safety is a national campaign aiming to help reduce avoidable harm in the NHS by 50% over 3 years with the result of saving 6,000 lives.
There are 5 pledges:
Putting safety first. Commit to reduce avoidable harm in the NHS by half and make public our locally developed goals and plans
Continually learn. Make our organisation more resilient to risks, by acting on the feedback from patients and staff and by constantly measuring and monitoring how safe our services are
Being honest. Be transparent with people about our progress to tackle patient safety issues and support staff to be candid with patients and their families if something goes wrong
Collaborating. Take a lead role in supporting local collaborative learning, so that improvements are made across all of the local services that patients use
Being supportive. Help people understand why things go wrong and how to put them right. Give staff the time and support to improve and celebrate progress
At Frimley Health we identified 3 areas we wanted to focus on:
Consent
Perineal damage in childbirth
Clinical handover
What do you mean by 'clinical handover'
This was one of the first questions I asked. The scope is huge, where would I draw a line? How would I get everything done in 3 years? Where would I start?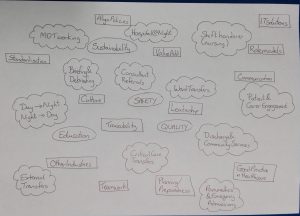 Victoria vs. the world
I felt like it was me against the world, then I remembered, it wasn't just me, there were thousands and thousands of doctors, nurses, patients, carers and a hundred other staff in roles across our Trust who were going to need to engage in a commitment to reduce harm caused by poor clinical handover. I couldn't do this on my own.
How do you eat an elephant?
From this revelation I made a plan. I went and spoke to staff and patients about their experiences, I reviewed incident, near misses, complaints and litigation claims. Then I broke the issues around clinical handover down into manageable 'bite sized' three to six month projects and started to think about how I was going to get engagement from staff of every grade, speciality and skill set.
Increasing staff engagement
The process of going to wards and talking to staff and patients had already raised the sign up to safety profile. I then went to as many meetings as I could get an invite to (and gate-crashed a few as well). In the first three months as the clinical handover Matron I didn't once ask ward based staff to leave their departments to come and speak to me, I always went to them.
To further raise awareness of the Sign up to Safety campaign we hosted a two day awareness event in January 2016. As part of the event I asked staff to give a personal safety pledge. Key speakers gave presentations about their personal safety pledges including the Medical Director, Director of Nursing and Chief Executive. There were also presentations from the NHSLA.
We also took the event on the 'road', going around the wards over the two days to ensure staff who were unable to be released from the ward could still find out about the work planned and make a safety pledge (we also had cakes, pens and other goodies that helps staff feel valued).
Introducing Safety SBAR
Safety SBAR is nothing new. It takes good practice from other industries such as aviation and engineering and combines that with a commonly used communication tool. The model also mirrors safe practices in our operating theatres including daily debriefing and ensuring that every member of the team has a voice.
Safety SBAR – Handover Model
Safety Briefing
Team introductions
High risks today
Confidential Update
Bedside Plan
Assessment
Recommendation
Debrief
What went well?
What could be improved?
Thank you's
Early on in the project I realised that this was more than just creating a standardised approach, or what our handover sheets looked like. This project was going to be about how we work a team and plan our shift, how we engage with patients as partners in care and how we share and learn when things go well instead of just when things go wrong.
More than ever I was going to need the ward staff on board with this project. I could stick posters on the wall and get staff to stand in different places for handover but if they did 'get it' nothing would actually change for patients or staff.
I cannot be everywhere at once, how can we keep this project moving?
When we piloted the Safety SBAR the wards which embraced the change and came up with new and innovative ideas were the ones with ward leaders who understood the project and believed it would make a difference to patients and staff. After the initial pilot these were the areas which sustained the change and did not slip back into old habits.
More staff engagement
To assist with staff and ward leaders understanding of Safety SBAR I developed a selection of interactive workshops for students, preceptorship nurses and senior nurses and attached them to pre-assigned study time such as the nurse in charge master class (yes, you guessed it, I gate crashed again). I also set up open- to-all sessions during the roll out phase of the project to engage with staff who hadn't had an opportunity to attend previous sessions.
By having early by-in from ward leaders they understood the importance of an effective implementation of Safety SBAR and helped make these workshops a key priority by releasing staff to attend. These were some of the best attended workshops I ran with a mixture of nurses, care assistants and students from a variety of departments at each session.
Not just going through the motions
At the end of each handover workshop staff were asked to consider making a new safety pledge about what they were going to do to improve handover in their area. After the roll out is complete I plan to post these pledges back to the individuals to remind them what they had pledged to achieve.
Locally owned change
Before each ward started using safety SBAR they created their own safety briefing topics that were specific to their ward environment. This helped foster local ownership for Safety SBAR and ensured that the briefing content was meaningful.
I honestly believe that Safety SBAR is a meaningful and sustainable change that will reduce patient harm, improve communication and support staff. By working with staff to understand why Safety SBAR has been introduced and how they can effectively use it we have created a trust wide culture shift in handover.
Before you go
Thank you for taking the time to read my first blog. I will leave you with this short video about our personal safety pledges (I made it on my phone).
Note from Sign up to Safety
If you'd like to make your own video on your phone, we have some handy guidance here.