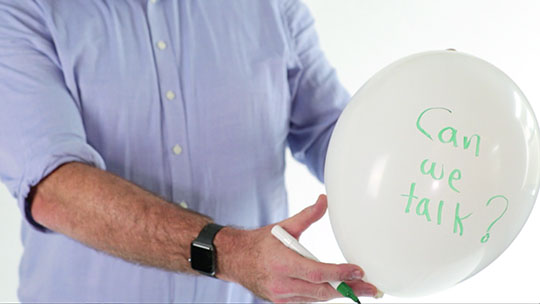 Conversations are gateways to change. Change that could simply put a smile on someone's face or impact the entire healthcare sector, for good. But conversations aren't always easy. We spoke to some of our #justaskme film volunteers to share the story behind their questions, and discover how we can encourage conversation against the odds. 
From worrying that you won't be heard to lacking the confidence to speak up, feeling like it's not your place to say, to simply not having time to stop and ask "why?" – there are many reasons staff members and patients alike might choose to stay quiet. But when it comes to keeping people safer, questions can make a world of difference.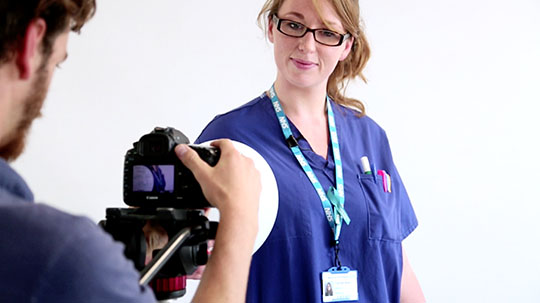 Finding time
Time. It's one of the greatest causes of communication breakdown in every area of the NHS. As part of our #justaskme film, Midwife Charlotte Nolan said she'd like to be asked, "Are you happy with your plan of care for today?" – calling this issue into question. "Staff members are busy," she explains. "Workloads can be heavy and people can get caught up or blind sighted."
A study by BMJ Quality & Safety this year found that 66% of nurses felt they didn't have time to comfort or talk to their patients on their last shift. We know that caring for people is why you do what you do. So if you can't find the time to comfort your patients, it's understandable that communicating with your colleagues can fall by the wayside.
But questions like Charlotte's are vital for keeping people safer. "Humans don't follow the rules," she says – explaining how healthcare practitioners need to be responsive to the unpredictable nature of the human body. "So we have to ensure that we are practising safely to guarantee excellent care. Sometimes you simply need to 'sound out' your plan, and we need to encourage that. In supporting each other we can draw on experience and knowledge in a collaborative effort to ensure excellence in care and patient experience."
Rethinking normal
Quality Improvement Manager, Joanne Bird chose to highlight the problem of normalisation with her question: "How did it make you feel?". "In some cases incidents can happen so often that people stop recognising them, or speaking out about them – they become normal," she says.
When it comes to incident reports, it's can be all too easy to focus on the data and lose sight of the human aspect. "I believe that if the detail of an incident makes you feel something, it's our conscience telling us to do something," says Joanne. "When I read the details of an incident I always ask myself how I feel – am I shocked, sad, angry, happy? I think this is the most important aspect in the beginning. Because it's always our emotions that drive us to take action." Simply asking "how did it make you feel?" could in fact open up all new avenues of exploration and education.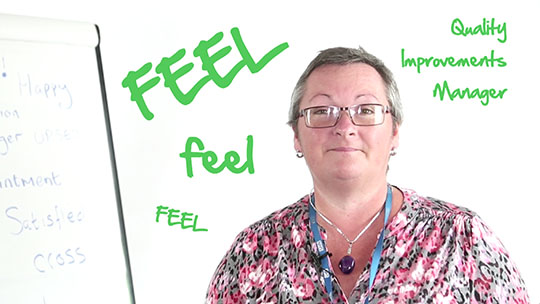 Breaking down barriers
Encouraging conversation doesn't mean asking people to shout louder to be heard. As Margaret Wheatley once said, "I believe we can change the world if we start listening to one another again"1.
Each and every one of us has a responsibility to listen. "As a junior member of staff, it can be hard to question another person's practice, especially when they have decades more experience than yourself," says Charlotte. This might feel like an intimidating thing to do, but you will probably be surprised how many will have their own questions and value your input and support.
In our #justaskme film, GP Matthew Dolman says he wants people to ask him – "can we talk?". Why did he choose this question? Because he knows barriers exist between junior and senior staff, where they shouldn't. "I want people to feel comfortable coming to me with concerns, queries or sensitive matters. No matter our positions within the NHS, we can all contribute to improving patient safety – if we feel the doors are open."
And Charlotte agrees: "If there's one piece of advice I have about patient safety, it's that there is no silly question… or if there is, I've already asked it. We are a team of people who work in the NHS because we care and we want to provide excellence in our work – therefore we should never be afraid to #justaskme. After all, you never know what the answer may lead to."
"There is no silly question…or if there is, I've already asked it. We should never be afraid to #justaskme. After all you never know where the answer may lead." – Charlotte Nolan, Midwife
 "The day we stop feeling when we read the details of incidents is the day we stop acting on them…"
Find out more about how conversations can create a safety culture, watch our campaign video find out how you can join Sign up to Safety as an individual or an organisation.
---
1 – Wheatley M (2009) Turning to one another; simple conversations to restore hope for the future San Francisco: Berrett-Koehler Publishers inc