Lung Cancer Awareness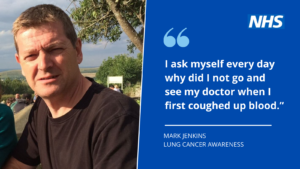 Mark Jenkins, aged 55, of Horley, was diagnosed with lung cancer in July 2020.
He had a lobectomy (partial removal of left lung) in September 11 at St George's Hospital, followed by a course of chemotherapy at St Luke's Centre which finished mid-February 2021. Read Mark's story.
Prostate Cancer Awareness
Cancer Alliance urges men to be clear on prostate cancer risks
Surrey and Sussex Cancer Alliance (SSCA) has launched a campaign to encourage men across the region to understand their risk of prostate cancer and have a potentially life-saving conversation with their GP.
The Alliance is taking to social media and asking the area's community groups to urge men who are in risk categories for this disease – that is older men over 50, black men and those with a family history of prostate cancer – to contact their local doctor's surgery and talk to a health professional about the benefits of having a prostate specific antigen (PSA) test. This is a blood test which can help detect prostate cancer.
The awareness campaign has been launched during Men's Health Week (June 14-20) because the number of referrals for men with suspected prostate cancer across Surrey and Sussex has dropped since the pandemic.
The Alliance has also joined forces with local charity, The Prostate Project, to raise awareness and the charity's new patron, actress Felicity Kendal, has filmed a video for social media to encourage women to have conversations with the men in their lives about prostate cancer.
"The COVID-19 pandemic has put men off from coming forward to talk about their health," says Prof Stephen Langley, the Alliance's urology lead and trustee of The Prostate Project. "However, the difficulty is that early prostate cancer often has no symptoms, so it is up to men to be proactive and, if they fall into one of the higher risk categories, to ask their GP about the benefits of having a PSA test."
Guildford resident, Alan K, aged 74, didn't have any symptoms when he was diagnosed with prostate cancer in March of this year following a PSA test in December 2019.
"Luckily, I was having regular blood tests at my GP surgery and they tested my PSA levels, but I had no symptoms –  no getting up six times in the night, no blood in the urine, no urgency to go to the loo," he explained. "When I told my male friends I had prostate cancer, they expected me to have symptoms but I didn't."
Alan regularly walks the Surrey Hills with a group of male friends and adds: "Before my diagnosis, we used to chat about our creaking bones while we were on walks, but now it's been prostate cancer awareness and getting a PSA test. Two of my friends have already gone and done that since I told them about my diagnosis."
Alan's prostate cancer was caught early and had not spread beyond the prostate. He is currently being treated with hormone tablets, followed by radiotherapy later this summer and then brachytherapy at The Stoke Centre for Urology based at the Royal Surrey County Hospital. (Brachytherapy is internal radiotherapy using tiny radioactive seeds which delivers high doses of radiation directly to the prostate.
"We know that since the COVID-19 pandemic, men have felt that they shouldn't be bothering GPs with things like this, but it is important to talk to us if you fall into one of the risk categories for prostate cancer, or if you have any symptoms you are concerned about, such needing to go for a wee more frequently or blood in your urine," says Dr Alex Norman, Surrey and Sussex Cancer Alliance's primary care lead and Surrey Downs clinical cancer lead. "Doctors' surgeries are open and healthcare professionals can advise well men who don't have any symptoms about the PSA test so they can make an informed decision about their health. Prostate cancer can be treatable and many men will go on to live long lives after their diagnosis.
In the UK, prostate cancer is the most common cancer to affect men1 and it is estimated 1 in 8 men will get prostate cancer in their lifetime2. There are three main risk factors2:
getting older: it mainly affects men aged 50 or over and the most common age for men to be diagnosed with prostate cancer is 65-69 years;
a family history of prostate cancer: compared to a man with no family history, the risk is 2.5 times greater if a parent or male sibling has been diagnosed;
black ethnicity – one in four black men will get prostate cancer in their lifetime.
In Surrey and Sussex, prostate cancer is the second most prevalent cancer3 with 97% survival rate at one year from diagnosis.
Patient stories
Click the image to read patient stories.
NHS warning to seek help for cancer symptoms, as half of public report concerns with getting checked
Surrey and Sussex Cancer Alliance appoints new managing director
Surrey and Sussex Cancer Alliance has appointed Dr Keri Torney as its new Managing Director.
Keri started in post in October and will work with the Alliance's Chair, Louise Stead and Medical Director, Dr Fiona McKinna to provide leadership, system oversight and coordination of cancer services, to support improved patient outcomes, experience and the delivery of the cancer constitutional standards; she will also be responsible for the day to day management of the Alliance's business functions.
Prior to joining Surrey and Sussex Cancer Alliance, Keri worked as Deputy Director of Life Sciences in the Innovation, Research and Life Sciences group at NHS England. She has also held senior roles at Healthy London Partnership and Public Health England. A scientist by training, she has mainly worked in the civil service, focusing on policy and strategy roles.
The NHS Long Term Plan and 2019/20 Planning Guidance will see Cancer Alliances take on an even more prominent role in providing leadership to their local cancer systems in the coming years, as we work to transform cancer services.
First edition of the newsletter
Surrey and Sussex Cancer Alliance has published the first edition of a new, quarterly newsletter. The Autumn 2019 edition includes updates on our priorities for 2019/20, stratified pathways for follow-up care, prehabilitation services and targeted screening interventions.