South East Region Eye Health
Information
This page includes information for South East Community Opticians and their teams, in Surrey, Sussex, Kent, Thames Valley, Hampshire and the Isle of Wight.
The role of the South East Optometry Team is to:
Ensure quality, accessible and timely NHS optometry services.
Ensure general ophthalmic services are implemented through national contracting mechanisms, enablers and frameworks, to provide the best possible service to patients.
Support the Local Optometry Network (which represents local community providers, clinical commissioning groups, local optometry committees, local eye health network, hospital providers, GPs and voluntary organisations).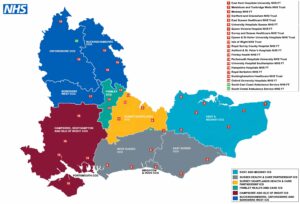 Contact us
South East Optometry Team contact details
All public and patient enquiries, complaints or Freedom of Information Act requests should be directed to england.contactus@nhs.net or telephone 0300 311 22 33.
Latest news
Read the latest news from the South East Optometry Commissioning Team:
NHS GOS Sight Test and Voucher Eligibility
Application forms
Safeguarding Children and Vulnerable Adults
For guidance, use the Multi-Agency Safeguarding Hub contacts list below: