South Yorkshire and Bassetlaw Integrated Care System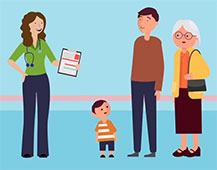 The South Yorkshire and Bassetlaw Integrated Care System (ICS) formally launched as an ICS in October 2018 after three years working in partnership, first as a Sustainability and Transformation Partnership, then as an Accountable Care System and now as an ICS.
South Yorkshire and Bassetlaw ICS serves a population of 1.5 million, in five local Places (Barnsley, Bassetlaw, Doncaster, Rotherham and Sheffield). The system includes 72,000 members of staff, 208 GP practices, 36 neighbourhoods, 6 Acute hospital and community trusts, 6 Local authorities, 5 Clinical Commissioning Groups and 4 Care/ mental health trusts.
In line with the national picture, life expectancy in South Yorkshire and Bassetlaw is no longer increasing. The greatest contributing factors to the gap in life expectancy in SYB are cancer, cardiovascular disease (CVD) and respiratory disease. In SYB there are too many deaths in early adulthood in men from suicide, drug related death and violence. Not only do people in SYB die younger, but they also live fewer years in good health. Many people are living with multiple long term conditions. People living in the most deprived areas experience the onset of multi-morbidity 10-15 years earlier than those in the most affluent areas. Much of the burden of illness can be prevented or delayed. There are high levels of the common causes of disability and death, including high rates of smoking, obesity, physical inactivity and hospital admissions due to alcohol.
The vision
The South Yorkshire and Bassetlaw ICS goal is for everyone in South Yorkshire and Bassetlaw to have the best possible start in life, with support to be healthy and live well, for longer.
One NHS, working as a system, the ICS works with other partners, such as Local Authorities and the voluntary sector, in Neighbourhoods, Places and across the System when there is a common purpose and where it makes a positive difference to people's lives. The aim is to break down organisational barriers so that support, care and services can be wrapped around people as individuals.
What this means for local people
The South Yorkshire and Bassetlaw ICS 5 Year Plan describes what the partners aim to achieve over the next five years…
Increase screening and provide more diagnostic services for people with suspected cancers
Improve access to pulmonary rehabilitation for people with respiratory disease
Roll out the Healthy Hospitals programme, starting with QUIT and progress plans to reduce obesity and alcohol related admissions
Establish digital capabilities that enable integrated health and care and enhance the use of information to digitally enable citizens, professionals and the system
Design and set up a digital outpatient transformation programme
Implement Better Births, with Local Maternity Systems, including reducing smoking in pregnancy and delivering continuity of carer
Roll out mental health support teams for children and young people, 24/7 adult mental health crisis resolution and home treatment teams, expand IAPT services and support people with learning disabilities and autism
Expand access to the national diabetes prevention programme.
The changes being made
Case study
Working together to reduce suicide
South Yorkshire and Bassetlaw has a higher suicide rate than the England average, and the impact of suicide is complex and the effects are profound; not only on the family and friends of the person who has died but also on the wider community. In recognition of the importance of addressing this issue, partners across the health and social care system and partners from organisations outside health and social care, are working together to develop consistent approaches to suicide prevention, and support in the aftermath of suicide.
Read more about some of the approaches here:
Find out more about the changes being made locally to deliver their vision.
Looking ahead
Find out about the projects that will be happening to help the integrated care system deliver on its ambitions.
Contact
You can get in touch with the integrated care system in the following ways: