South region split
The NHS England South region has now been divided into two regions – the South West and the South East. The South's four Directors of Commissioning and their senior teams are now aligned to the geographies of the Sustainability and Transformation Partnerships (STPs) in the South West and the South East as follows:
South West
Mark Cooke supports Devon; Cornwall; Somerset and Dorset
Rachel Pearce supports Bristol, North Somerset and South Gloucestershire (BNSSG); Bath, Swindon and Wiltshire (BSW) and Gloucestershire.
South East
Felicity Cox supports Surrey Heartlands; East Surrey and Sussex and Kent and Medway
David Radbourne supports Hampshire & Isle of Wight, Frimley Health and Berkshire West, Oxfordshire and Buckinghamshire (BOB) on an interim basis
Sustainability and Transformation Plans
The NHS shared planning guidance 16/17 – 20/21 asks every health and care system to create a local blueprint for accelerating implementation of the Five Year Forward View (5YFV).
Sustainability and Transformation Plans (STPs) are place-based, multi-year plans built around the needs of local populations, showing how local services will evolve and become sustainable over the next five years – ultimately delivering the Five Year Forward View vision.
STPs will be delivered by local health and care systems or 'footprints': organisations working together to deliver transformation and sustainability.
There are 44 footprint areas across England and 13 in the South region: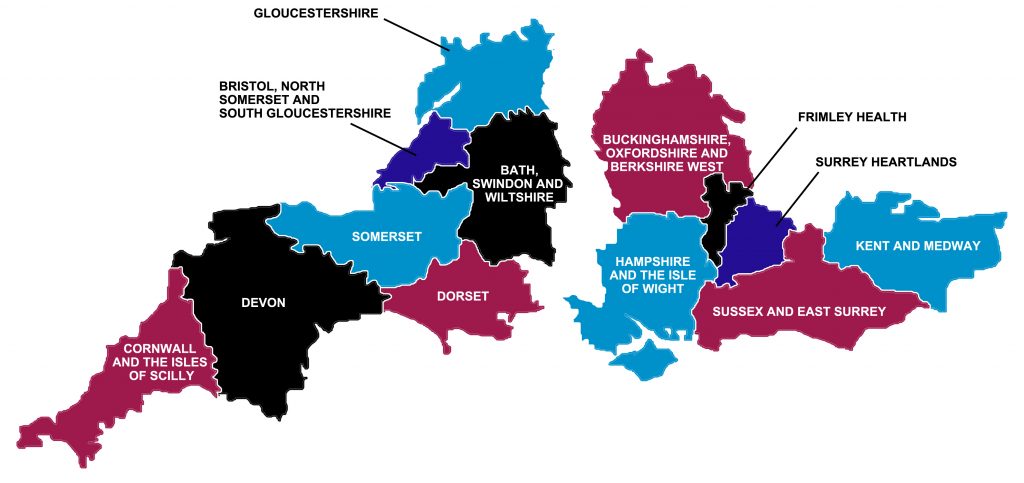 Each footprint has set out governance arrangements for agreeing and implementing their STP. Footprint leaders have also been identified and confirmed by each footprint. Footprint leads include NHS provider chief executives, CCG accountable officers, local authority senior leaders, and clinicians.
New care models
In January 2015, the NHS invited individual organisations and partnerships to apply to become 'vanguard' sites for the new care models programme, one of the first steps towards delivering the Five Year Forward View and supporting improvement and integration of services.
There are five vanguard types:
Integrated primary and acute care systems – joining up GP, hospital, community and mental health services.
Multispecialty community providers – moving specialist care out of hospitals into the community
Enhanced health in care homes – offering older people better, joined up health, care and rehabilitation services (none in the South)
Urgent and emergency care – new approaches to improve the coordination of services and reduce pressure on A&E departments
Acute care collaborations – they aim to link local hospitals together to improve their clinical and financial viability.
All of the vanguards were selected following a rigorous process, involving workshops and the engagement of key partners and patient representative groups.
Each vanguard site will take a lead on the development of new care models which will act as the blueprints for the NHS moving forward and the inspiration to the rest of the health and care system.
Successful vanguards will demonstrate:
National replicable models
More accessible, more responsive and more effective health, care and support services
Fewer trips to hospitals
Care closer to home
Better co-ordinated support
24/7 access to information and advice.
 South region vanguard pen portraits
 Acute care collaborator vanguards
Integrated Primary and Acute Care Vanguards
Multispeciality Provider Vanguards
Urgent and Emergency Care Vanguards