Suffolk and North East Essex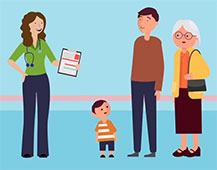 The integrated care system in Suffolk and North East Essex includes all the NHS, local government, other health sector bodies and hospices across the area, working together with community and voluntary sector organisations.
It covers many rural areas as well as the conurbations of Ipswich, Bury St Edmunds, Colchester, Clacton, Haverhill, Sudbury and Felixstowe. It includes some of the most affluent areas of England but also the most deprived village, Jaywick Sands within Tendring ward.
Ipswich and East Suffolk has a population of 385,000 with 40 GP practices; West Suffolk's population of 243,000 is served by 24 GP practices and North East Essex has a population of 325,000 with 38 GP practices.
Deaths from cancer in women, and from external causes in men (drugs, alcohol, suicide) play a large part in the difference in average life expectancy between Jaywick Sands and England as a whole.
While some areas perform better than the national average, one in five reception children and one in three year six children have excess weight and approximately two out of three adults are overweight or obese.
The number of people living with dementia across Suffolk and North East Essex is likely to almost double in the next 20 years. There will be many more people living with multiple chronic illnesses, which is likely to put significant strain on primary care.
The vision
The vision is for people across Suffolk and North East Essex to live healthier, happier lives by taking greater control of and responsibility for their health and wellbeing. The fundamental change proposed is that all services, across physical and mental health and social care, will work together as never before to create a seamless service for patients. All the organisations involved are responsible for making this work.
What this means for local people
Local people will be supported to help themselves, retain their independence and improve their quality of life.
People will take responsibility for their own wellbeing by making healthy lifestyle choices.
People will stay in their own homes for as long as possible, with fewer emergency admissions and care or nursing home placements.
People will receive care closer to home in community settings, which will improve patient experience and take pressure off hospitals.
Patients will have better access to GP services as practices will work together to share resources and support each other.
The changes being made
Looking ahead
Find out about the projects that will be happening in 2018/19 to help the integrated care system deliver on its ambitions.
Contact
You can get in touch with the integrated care system in the following ways: