Research into financial wellbeing
Analysis and research for Britain's healthiest workplace is conducted by the University of Cambridge and RAND Europe. Recent research identified that an average of 38 productive days per employee per year due to absence (1.1%) and presenteeism (13.4%). This increases by more than double for those employees with financial concerns.
The Money and Mental Health Policy Institute is an independent charity set up by Martin Lewis. The charity conducts research into financial wellbeing and is committed to breaking the link between financial difficulty and mental health problems. Evidence from their research suggests that a poor financial situation will have a direct detrimental effect on an individual's mental health, producing physical and psychological symptoms such as loss of sleep, poor concentration and reduced motivation.
The different stages of life provide a variety of challenges to financial security, and it is important to understand the impact this will have on a multi-generational workforce.  Furthermore, financial education becomes especially important in order to begin to redress the socio-economic imbalance in our society and our workforce. Such imbalance amplifies the inequity, where a 'poverty premium' is paid by those who are on a lower income, and who in turn pay a greater premium for credit.
There are a number of organisations that claim to offer financial benefits including the recently-merged Neyber and Salary Finance. Research undertaken by Neyber (part of the Salary Finance family since March 2020) suggests that financial concerns of staff reduce steadily over the years, but are still experienced by almost half of the workforce at age 64.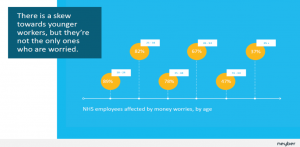 Neyber's research also suggests that financial insecurity is not necessarily influenced by high/low pay and that this indicates a need for financial education at all levels and generations within a workforce.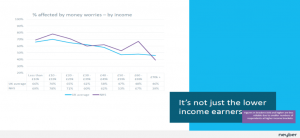 Although the reasons for financial insecurity across the generations may vary, and become less of an issue as individuals age, the statistics show that a high percentage of employees within the NHS face financial concerns. The impact that this has on their mental health and the consequential impact on their wellbeing and productivity at work is significant. Neyber research estimate the cost to the NHS at £431,000 per 1000 workers, which would equate to over £2 million for a small to average DGH of 5000 employees.
---
Guide Content