West Yorkshire and Harrogate Health and Care Partnership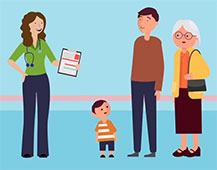 In West Yorkshire and Harrogate, 50 neighbourhoods are bringing social, physical and mental health care closer together, and seven local health and care partnerships are being created in six defined places where council and NHS commissioners and care providers plan services together (Bradford District and Craven, Calderdale, Harrogate, Kirklees, Leeds, and Wakefield). They are supported by one joint committee of the CCGs, one association of acute hospitals, one collaborative of mental health providers, hundreds of community organisations and thousands of unpaid carers caring for family, friends and neighbours.
The organisations involved include:
CCGs: Airedale, Wharfedale and Craven; Bradford City; Bradford District; Calderdale; Greater Huddersfield; Harrogate and Rural District; Leeds; North Kirklees; Wakefield
Councils: Bradford; Calderdale; Craven District; Harrogate Borough; Kirklees; Leeds; North Yorkshire; Wakefield
NHS trusts and foundation trusts (hospitals): Airedale; Bradford; Calderdale and Huddersfield' Harrogate and District; Leeds; Mid Yorkshire
NHS trusts and foundation trusts (mental health): South West Yorkshire Partnership; Leeds and York Partnership; Bradford District Care; Leeds Community Healthcare
Others: Voluntary and community partners; NHS England; NHS Improvement; Yorkshire Ambulance Service; Public Health England; Health Education England; Healthwatch; GP Federations.
West Yorkshire and Harrogate covers a population of 2.5 million people including 260,000 unpaid carers. Around a fifth of adults have a disability and more than 200,000 are at risk of Type 2 diabetes. Mortality is higher than average for people with serious mental health concerns and there are significantly worse rates of cardiovascular disease than in other parts of England. Recently the number of people attending A&E has been growing at 6.6 per cent a year – higher than the England average and faster than the rate of population growth in the area.
Watch a video explaining more about West Yorkshire and Harrogate Health and Care Partnership.
The vision
The vision for West Yorkshire and Harrogate is that places will be healthy and local people will have the best start in life, so they can live and age well.
People with long-term health conditions will be supported to self-care. This will include peer support and technology including everything from telemedicine (where patients can talk to their GP or a nurse via Skype, where it is safe to do so), carephones and fall detectors, to virtual communities of support from people living similar lives.
GPs and social services will work together to support people with multiple health conditions. This will involve the patient, their family and carers, the NHS, social care, housing and voluntary and community organisations.
Hospital care will usually be provided at a local hospital, which will work closely with others to deliver the best care possible.
Local hospitals will be supported by centres of excellence for cancer, stroke and mental health, which will deliver world class care and push the boundaries of research and innovation.
All of this will be planned and paid for once, with councils and the NHS working together and removing the barriers created by planning and paying for services separately.
Communities and staff will be involved in the design, delivery and assurance of services so that everyone truly owns their health care.
What this means for local people
Local communities will benefit from an increased focus on preventing ill health and tackling the wider determinants of health, such as housing, employment, social inclusion and the physical environment – leading to improvements in overall wellbeing, preventing some health issues from occurring at all and helping the poorest fastest.
Local people will have an improved experience of health and care, with health and social care teams working together to support social care and physical and mental health services so that people don't have to tell their story more than once.
Greater use of technology will help people better manage their health. People will be able to book GP appointments online and more telehealth services will be available to help keep people safe and well at home.
Local people will be supported to care for themselves where appropriate – avoiding unnecessary hospital or clinic appointments – and there will be more support for carers, including those with caring responsibilities who work within the NHS.
Integrating health and social care services to work more closely together will mean that everyone receives the services they need at the time they need them and people no longer become caught in the gap between 'health' and 'social care' at a time when they may be vulnerable.
The changes being made
Case study
Pioneering new service for stroke patients
The Brain Attack Team at Leeds Teaching Hospitals launched a pioneering new service in June 2018 which provides specialist treatment for people across West Yorkshire and Harrogate who have suffered a life-threatening stroke.
In cases where clot-busting drugs given after a stroke don't successfully remove the clot, patients can now be transferred to Leeds for a mechanical thrombectomy procedure – an emergency treatment which can significantly decrease the risk of long-term disability. The patient can then be discharged the same day back to the referring hospital, which will often be closer to home.
This regional service is unique in the UK and is delivered using a highly co-ordinated approach between stroke nurses, neuroradiologists, consultants and other professionals across the area.
One patient, Brendan, was taken to A&E at Bradford Royal Infirmary after experiencing a life-threatening stroke. He was given an emergency CT scan followed by clot-busting drugs, and two and a half hours after he arrived he was transferred to Leeds for the mechanical thrombectomy procedure.
Brendan is believed to be the first person in the country to have been admitted to his local hospital, moved to the regional centre for this innovative new procedure and then returned back to his local hospital within nine hours. He is now on the road to recovery.
Find out more about the changes being made locally to deliver their vision.
Looking ahead
Find out about the projects that will be happening in 2018/19 to help the integrated care system deliver on its ambitions.
Contact
You can get in touch with the integrated care system in the following ways: