Achieving 2020 vision in London's eye health – David Parkins
In the latest in our series of blogs about #primarycare month – an NHS England (London) campaign to promote and publicise the many exceptional things going on in primary care across the capital – David Parkins talks about what needs to change in eye health and sight services to meet current and future challenges.
Hospital eye services were in the news last week with the President of the Royal College of Ophthalmologists highlighting the mounting pressures due to the ageing population and nature of treatments for serious eye conditions.
A 30% increase in ophthalmology outpatients attendances over the last five years was reported and this is set to rise further. There was concern around the back-log of delayed ophthalmology follow-ups, mainly because of the rise and the lack of community services to discharge stable patients.
The case for change is the same as it was in the London Stroke Strategy. There needs to be a similar step change in how eye health and sight loss services are commissioned and delivered in London.
Innovative redesign across primary, community, hospital and urgent eyecare is urgently needed to meet the present challenge and for the future. Solutions include a more effective primary eye care service model, recommended guidelines to optimise efficient care; the use of expanded skills and roles of other specialist eye staff such as optometrists, orthoptists and ophthalmic nurses increasing networks between primary and secondary care.
Pathways can be complex, involving many stakeholders and relying on a multi-professional workforce. In London, most primary eye care is delivered by optometrists and dispensing opticians in over 900 optical practices, 70% of which is under the NHS eye test (General Ophthalmic Services). For the vast majority of GPs and pharmacists in primary care, straightforward eyecare is a small but increasing part of their routine workload.
The Eye Health Network for London: Achieving Better Outcomes report, released in June 2015, describes a more co-ordinated approach to the commissioning and delivery of eye health and sight loss services across the capital to support the integration between services and pathways. It describes a greater role for primary and community care, and greater integration with hospital eye services. It has been endorsed by the Clinical Council for Eye Health Commissioning and the Ophthalmic Public Health Committee of VISION 2020 (UK). The London Clinical Senate Council has endorsed the principals in the report and the London Clinical Commissioning Council has received the report.
Whilst Scotland and Wales are tackling these issues with national strategies and contracts, there still remains a fragmented eye care model in England. Fragmented pathways are not in the best interests of the users of the service, and lead to confusion and delay. Some patients do not stay within their CCG boundaries for their primary eye care, for example, 20% of patients attend optical practices outside the CCG area and miss out on the schemes.
The Network has therefore developed a strategy for London. The report sets out five priority areas and 12 specific pathway recommendations. It may have implications for the other eye health networks in England.
The full set of priorities can be found in the report, but briefly are summarised as:
The need for a set of London-wide whole system eyecare pathways starting with more being done by primary care and incorporating the specific recommendations, that offer good patient care, streamline processes and are cost-effective.
The recognition that the commissioning of eyecare and sight loss services is complex and cuts across many organisational boundaries. Consequently, the commissioning and procurement for the delivery of such services needs to be done at a larger scale to have greater impact and save costs. Resources need to go to front line services.
Eye Health Transformational Programme Boards/Networks (akin to Clinical Quality Review Groups) should be established covering each Strategic Planning Group (SPG) within London with representation from commissioners, providers and service users.
The need for better data as data collection will help identify patients who might otherwise fall between the cracks and enable those managing service provision to be able to plan more effectively.
The need for better sharing of data. Good communication and secure sharing and feedback of relevant information between health and care professionals, and their patients, is required at each stage of the patient's pathway, facilitated by electronic patient records and underpinned by community optometric connection to N3 and NHS mail.
As an example of innovation, a recent evaluation of over 2300 visits of a primary care minor eye condition scheme (MECS) in Lambeth and Lewisham, found that first attendances to hospital eye services referred by GPs dropped by 26.8% compared with a comparison area without MECS.
Follow up appointments in Lambeth and Lewisham (initially referred from GPs) also fell by 12.9% compared with comparison area. 81% of patients were retained within the scheme. It reported high patient satisfaction rates and close involvement of local ophthalmologists and local GPs.
If this was strategically commissioned on a London scale and there was integrated working with hospital casualty departments, consider the impact on the 37% of patients that currently attend hospital that could have been treated in primary care.
The London network is currently collecting information for the VISION 2020(UK) portfolio of eye health indicators by CCG and SPG as a baseline set of data. Alongside, there needs to be a review of current targets to encourage more equitable care, with follow-ups recognised as equally important.
The London report references a community ophthalmology model to ensure consistency in the shift from hospital to community services. The framework, developed by an experienced group of clinical leaders and patient advocates, has now been published by the Clinical Council for Eye Health Commissioning. A framework for primary eye care is in development.
---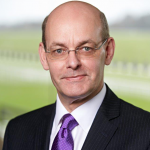 David Parkins is an Optometrist and Chair of the London Eye Health Network and the Clinical Council for Eye Health Commissioning (for England).
He is the immediate past President of the College of Optometrists and was recently appointed as a member of the General Optical Council. He is a member of the VISION 2020 (UK) Ophthalmic Public Health Committee and also finds time to work in primary care and hospital practice in South East London.
He is currently conducting doctoral research into clinical decision making. Previous research into 'repeat measures' in glaucoma is a NICE proven QIPP case study on NHS Evidence.
Previous roles include extensive experience in eye care pathway service redesign, quality assurance and Chair of a Professional Executive Committee and Board member of a London PCT for over three years.
David is a Fellow of the European Academy of Optometry and Optics, a Liveryman of the Worshipful Company of Spectacle Makers and has been awarded Honorary Life Membership of Vision Aid Overseas.