London's NHS workers inspire the next generation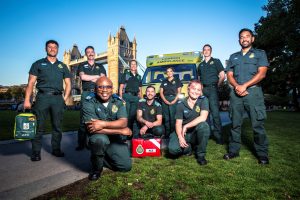 Google searches for 'ambulance jobs' shoot up by 70 per cent as prime time TV viewers are gripped by the real-life emergencies paramedics and 999 call handlers are responding to, with the latest episode of Ambulance airing tonight. 
As the weekly BBC documentary series 'Ambulance', was broadcast last Wednesday (23 September), and viewers watched London Ambulance Service's control room staff dispatch crews to patients in critical conditions, searches for 'ambulance dispatcher salary' and 'ambulance call handler pay' shot up by 1,200%.
It comes in the week that research showed nearly a quarter of young people want to be doctors, nurses and paramedics when they grow up while workforce data showed the number of nurses and doctors has increased by 24,000.
Earlier this year, millions of viewers tuned in to the prime-time BBC documentary series Hospital which followed the staff of London's Royal Free hospital as they responded to the first wave of the pandemic.
This year's UCAS figures show that there are 4,360 more nursing students placed onto courses in England than at the same point in 2019 – a 22% increase.
Garrett Emmerson, Chief Executive at London Ambulance Service said:
"I am delighted that this series of Ambulance documentary, filmed with London Ambulance Service, has inspired so many people to think about coming to work for us. I knew that when the public watched the documentary and saw the incredible work our crews and call handlers do every day, that enquiries to our recruitment team would sky rocket, and they did! Last week, our website's recruitment pages had more than four times as many hits as the same time last year

"The documentary provides a unique opportunity to showcase the professionalism and exceptional care provided by our teams throughout the Service, both those on the frontline and those working behind the scenes. Recruitment, along with educating the public on our services, are the main drivers for taking part in Ambulance documentary so I am delighted to say that with over 3.3million viewers per episode, we are achieving both!"
Jane Clegg, Joint Chief Nurse for the NHS in London, said:
"It's brilliant to see that London's NHS workforce is continuing to inspire the next generation. The coronavirus pandemic has brought to light the dedication and compassion of all NHS staff in the capital and it's incredible to see admiration for these efforts reflected in the nation's interest to join the workforce.

"London is a world-class city to both train and work as a nurse, search 'Nursing careers' today."
For further information please contact the NHS London communications team at london.commsteam@nhs.net