"The sky's the limit" – Kevin's story reminds us why we are working hard to improve the lives of adults and children with autism
This World Autism Awareness Week (WAAW), Jill Crook, the Transforming Care Programme Lead for NHS England South, reflects on why we do what we do – put simply, because it is changing the lives of people like Kevin and their families.
WAAW, initiated in 2014 by the National Autistic Society (NAS), the leading UK charity for autistic people (including those with Asperger syndrome) and their families, focuses on increasing awareness and understanding of autism.
In aid of this important week, we spoke to Kevin who has Asperger's about how getting the right care and support and being a welcomed, integrated member of the local community has changed his life.
Autism is a lifelong developmental disability that affects how people perceive the world and interact with others – they see, hear and feel the world differently.
Across the south region, 14 Transforming Care Partnerships (TCPs) are leading the way to improve the lives for people with a learning disability, autism or both. A cornerstone of achieving this is safely and successfully discharging inpatients into appropriate community settings – like where Kevin lives.
Kevin was very unhappy where he used to live, surrounded by other residents he could not relate to and staff who did not support him to be independent and achieve his ambitions, in fact he felt unsupported, repressed and even experienced bullying.
Ten years ago with the support of his mum, Care Manager and NAS, Kevin moved to Stonepit Close, a specialist residential home in Surrey run by NAS, where staff have in-depth training in how to support autistic people. He still lives there today and "could not be happier".
Kevin first visited Stonepit Close in June 2007 to meet all the residents, staff and check out his new room, which is decorated the way he wants and is full of his homely belongings. He explained: "It's a lovely home in a nice setting and town. People are friendly I have forged long-lasting friendships within my community, including at church and local café's. When I first came here two people accompanied me in public, this was stepped down to one and now I can go out on my own.
"I enjoy visiting my friends which I did not have the opportunity to do where I used to live. Thanks to the encouraging and supportive staff at Stonepit Close I have made lots of friends since moving in and I get to see places. Since living here I have visited dozens of places including Italy, Spain and Denmark. This year I plan to go to Bulgaria – something I could not have imagined doing a few years ago."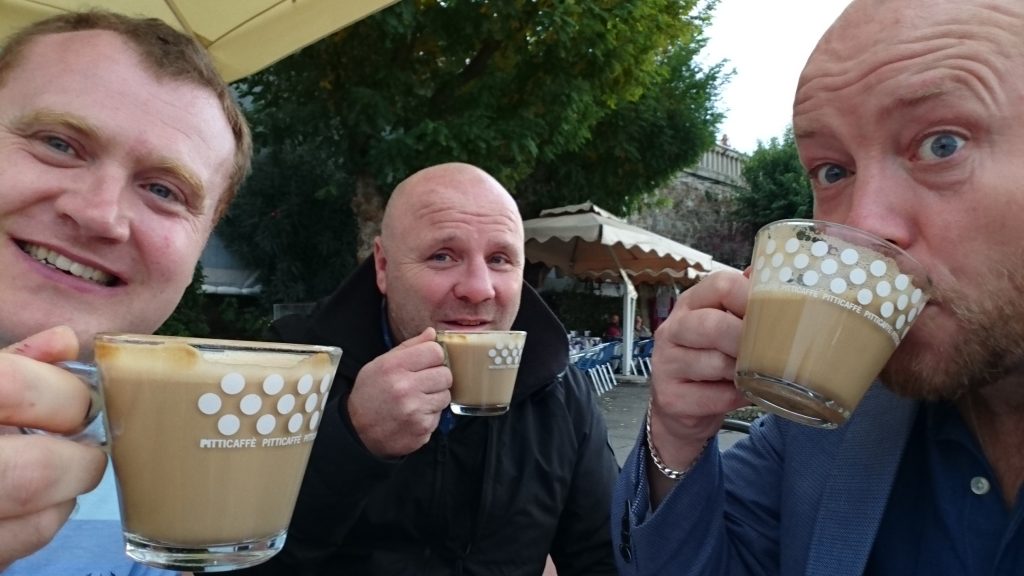 Kevin Roche, Gareth Jones and Leighton Carter in Italy
In the south, good progress has already been made reducing the numbers of inpatient beds for people with a learning disability, autism or both. As a region it has the lowest per capita admission rate in the country at just over 40 per million-population, close to the recommended limit for inpatient rates.
In the first nine months of 2016 alone, around 170 people were discharged from inpatient hospital care either back home or to other community care, achieved by working with patients and families and providing the right community services.
By the end of 2016/17 over 175 Care and Treatment Reviews (CTRs) will have been carried out across the south – helping to prevent unnecessary admission in the first place and get people home earlier from hospital with the right supportive care in place.
NHS England published a refreshed policy on CTRs this week with a clearer emphasis on the fact CTRs are for people with autism, as well as people with learning disabilities. Importantly, CTRs are designed around the individual and their needs and form a vital and effective way of giving individuals power and choice – a real voice over their care and future plans. This approach will help more people achieve their aspirations whether that's seeing different places like Kevin, living nearer to family and friends or securing paid employment.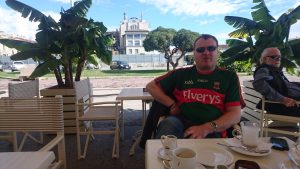 Kevin Roche in Pisa, Italy
Reflecting on how his life has changed since moving to live within a community setting, Kevin said: "I have achieved far more than I could possibly imagine. Last year I took part in a choir and sang in front of an audience at an event to raise awareness of autism and its positive effects in everyone's lives. I also gave a speech on how Asperger's has affected my life. The event made me feel like I have really achieved something and it boosted my self-esteem.
"Thank you to everyone, in particular the dedicated staff for supporting me, listening and going the extra-mile. This lifestyle has been the making of me – I am far more positive, confident and for me, the sky's the limit!"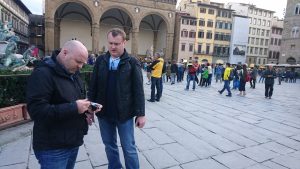 Gareth Jones and Kevin Roche in front of the Trevi Fountain, Italy
Thank you for sharing your story with us Kevin and enjoy your trip to Bulgaria later in the year!
What is autism?
Autism is a lifelong developmental disability that affects how people perceive the world and interact with others.
More than 1 in 100 people are on the autism spectrum, including an estimated 700,000 people in the UK.
Every person on the autism spectrum is different. It can present some serious challenges – but, with the right support and understanding, autistic people and their families can live full lives.
Although everyone is different, people on the autism spectrum may:
Be under or oversensitive to sounds, touch, tastes, smells, light or colours, which can make everyday life extremely difficult
Find social situations and change a challenge, sometimes leading to extreme levels of anxiety
Experience a 'meltdown' if overwhelmed by anxiety or sensory overload
Benefit from extra time to process and respond to communication.
Asperger syndrome is a form of autism. People with Asperger syndrome are often of average or above average intelligence. They have fewer problems with speech but may still have difficulties with understanding and processing language.
For more information visit: www.autism.org.uk