16 or 17? Grab a jab now over our Big Push weekend, and join the 8 million people already vaccinated in the South West
Over eight million vaccinations have now been given in the South West, and 16 and 17 year olds are being encouraged to #Grab-a-Jab at walk in clinics across the area.  The country's most vulnerable children aged 12 to 15 and those who live with vulnerable adults are also being invited to have their jab and have received text messages and emails with details on where they can go for them.
The NHS locally is encouraging all young people to protect themselves, their loved ones, and their local community by getting their jab today – and get back to school or having fun with their mates. They can get their jab either by using the online booking system, calling NHS 119 or they can #Grab-a-Jab at a local walk-in clinic – more clinics have been stepped up over the bank holiday weekend to reach as many young people as possible so they have the opportunity to get protected before returning to school in early September.  In addition, Pharmacies across the region are opening their doors by holding walk in clinics where young people can #Grab-a-Jab without having to book an appointment.
Dr Michael Marsh, NHS England and NHS Improvement South West Medical Director, said:
"The vaccine is safe and effective with nearly nine in 10 adults already taking up the offer, and I would urge anyone eligible, especially those 16 and 17 year olds heading back into education or training, to get their life-saving jab."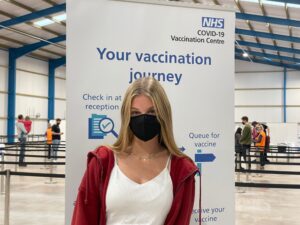 Emily a 16 year old from Devon said "I got vaccinated to help everything get back to normal and start having fun again," whilst Katie, also 16 and from Devon said "I got vaccinated today to protect my family and friends."
All remaining 16 year olds and 17 year olds who are not within three months of their 18th birthday will be offered one dose of the vaccine.
For those aged 17¾ bookings are now available through the national booking service.