NHS North of England Region
NHS England (North) is one of four regional teams that support the commissioning of high quality services and directly commission primary care and specialised services.
Geographically the North Regional Team covers Yorkshire and The Humber, the North-West and the North-East of England. Working via a single operating model the Regional Team operates as part of the central function of the national Operations Directorates. This includes providing clinical and professional leadership, coordinating, planning, operational management and emergency preparedness. The Regional Team also works with other directorates to provide co-ordination and oversight of Area Teams, management and delivery of specialised commissioning, performance oversight and stakeholder engagement.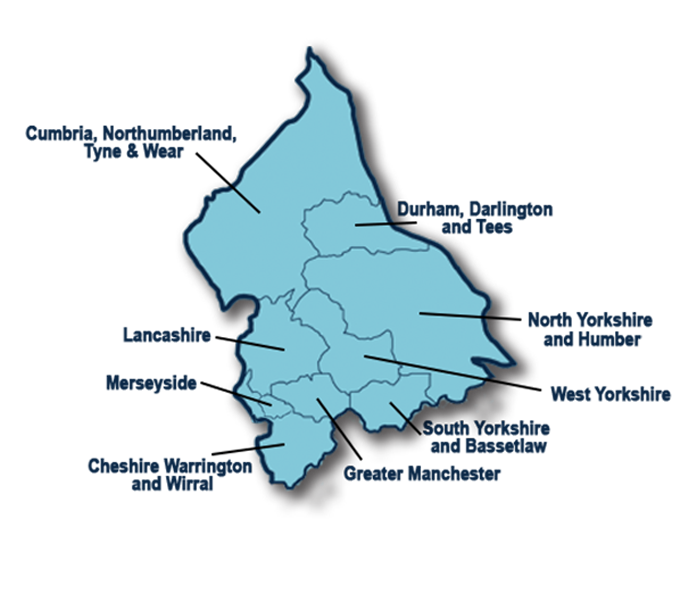 Click on the map above to access regional team pages or use the links below.
Specialised Commissioning: Cumbria, Northumberland, Tyne and Wear, South Yorkshire and Bassetlaw and Cheshire Warrington and Wirral Area Teams are responsible for specialised commissioning.
Offender Health: West Yorkshire, Lancashire, Durham, Darlington and Tees Area Teams are responsible for offender health.
Military Health: The North Yorkshire and Humber Area Team is responsible for military health.
CCGS: There are 68 Clinical Commissioning Groups (CCGs) with the North Region (211 nationally) who have responsibility for commissioning the majority of local health services for their populations.
HQ Details
Blenheim House
Duncombe Street
LS1 4PL
Switchboard: 0113 295 2000
Newcastle Office:
Waterfront 4
Newburn Riverside
Newcastle
NE15 8NY
Switchboard: 0191 210 6400
Manchester Office:
3 Piccadilly Place
London Road
Manchester
M1 3BN
Switchboard: 0845 050 0194