NHS in London launches mobile NHS COVID-19 vaccination service with St John Ambulance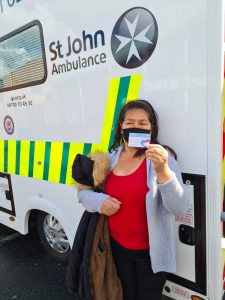 The NHS has launched a mobile walk-in NHS COVID-19 vaccination service staffed by the NHS using St John Ambulance volunteers and vehicles in South East London, aimed at providing convenient vaccination against COVID-19 to communities with the lowest rates of vaccination uptake.
Local GP services will be working with teams from St John Ambulance to offer the vaccine at a range of easily accessible sites including supermarkets and libraries, in the first deployment of its kind in England.
St John Ambulance has been a key partner in the NHS COVID-19 vaccination programme, recruiting and training around 30,000 vaccination volunteers across England, including 20,000 vaccinators.
This next development will harness the best of the NHS and St John Ambulance to drive vaccine uptake by providing locally-based COVID-19 vaccination services in South East London from their famous ambulances.
Dr Nancy Küchemann, Southwark GP and member of NHS South East London Clinical Commissioning Group's Governing Body said: "We are delighted to have St John Ambulance helping to deliver the NHS COVID-19 vaccination programme in Southwark and across south east London. The NHS and community partners have been working hard with local residents, including faith groups to increase vaccine confidence, particularly in areas of low vaccine uptake in Southwark.

"It's fantastic to have St John Ambulance supporting our work to maximise uptake and reassure Southwark people that vaccination is the best way to protect everyone from coronavirus, and our best route back to normality."
Both NHS staff and St John Ambulance volunteers at mobile sites will also be on hand to answer queries and concerns from the community about the COVID-19 vaccines. Everyone eligible for vaccination in the area will be able to present themselves for vaccination without needing to book.
Martin Machray, Joint Chief Nurse for the NHS in London, said: "I'm delighted that we're continuing to work with St John Ambulance to deliver COVID-19 vaccinations to Londoners. Together we have already delivered over 5 million vaccinations into the arms of Londoners, and this new development using St John Ambulances will further help us to encourage vaccine uptake."
The service kicked off in early May outside a local supermarket in Peckham.
Maria Lucila Chavez Mendieta was one of those vaccinated. She said: "We are happy for the vaccination to prevent illness and to save the family life."
Van Nguyen and Son Nguyen added: "Places like these pop-up clinics are good, because they're easy to get to." "It's good for the community and easy to get injected. It wasn't a difficult process."
There are plans to roll out the scheme more widely across London and England to complement existing outreach and pop up clinic activities. In Southwark, there will be two sessions a week, covering both the north and south of the borough and initially in areas with the lowest uptake. Sessions will be promoted through a mixture of social media and reaching out to local community groups to share messages. People will not need an appointment and colleagues on site will be able to link residents in with local services to facilitate second vaccinations.
St John Ambulance's Head of Community Response, Adam Williams said: "It's great to see our involvement in the vaccination programme extended to cover the use of St John vehicles as well as thousands of our volunteers.

"Our charity has more than 50 mobile treatment centres – provided thanks to the generosity of the Mark Master Masons, a few years ago – and this first use of them to support vaccinations in London has sparked interest from other NHS providers in using them around the country."