NHS England appoints London Trust CEO as Regional Director for London's NHS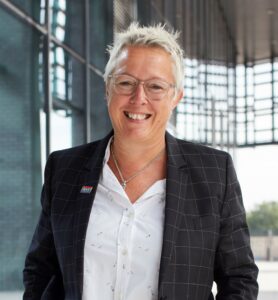 NHS England has today appointed Caroline Clarke as Regional Director for London.
Caroline will lead the NHS England London Region, overseeing its broad transformation agenda and working closely with colleagues across the health and care system in the capital.
Caroline Clarke has been Group Chief Executive at the Royal Free London NHS Foundation Trust (RFL) since 2019. During her tenure, Caroline steered the RFL through the COVID-19 pandemic during which time the trust played a key role in the national response – treating some of the first patients in the UK in its renowned specialist infectious diseases service; pioneering world-leading research projects and establishing one of the NHS' first vaccination centres.
Caroline's RFL stewardship also saw the opening of the £60 million Pears Building at the Royal Free Hospital – home to the Institute of Immunity and Transplantation – a ground-breaking collaboration between the RFL, UCL and the Royal Free Charity. The research facility enables scientists to work more closely with clinicians to develop treatments and cures for some of the most devastating diseases of the immune system.
Prior to this, Caroline held senior positions including as Finance Director at multiple NHS Trusts and as Associate Partner in KPMG's health strategy team.
Welcoming the appointment, Amanda Pritchard, Chief Executive, NHS England said:
"Caroline's NHS experience and leadership will be a major asset, working closely with our partners to deliver London's ambition to be the healthiest global city and the best city in which to receive health and care services, and to tackle issues that cause poor health and health inequalities.

"She will play a key role as part of NHS England's Executive Group in supporting the NHS country-wide to deliver better outcomes for our patients and communities."

Commenting on her appointment, Caroline Clarke said:
"London is a global player in healthcare, with leading institutions. Londoners also face some of the starkest health inequalities and services are continuing to recover from the pandemic.

"In recent years we've seen the capital's health and care teams implement a wide range of models that bring care closer to people's homes and reduce avoidable appointments and admissions. We have an opportunity to spread these further, collaboratively, for the benefit of all Londoners.

"London's NHS is full of talented, committed professionals and I look forward to working with colleagues on our ambition to make London the healthiest global city."
Caroline's full biography is available here.