Get to know our Nurses- Manjit Darby MBE
As part of the Year of the Nurse and Midwife 2020, we will be profiling some of our Nursing team and some nurses and midwives from the Midlands region throughout the year.
In our first profile, find out more about Manjit Darby MBE, our Director of Nursing Leadership and Quality in the Midlands.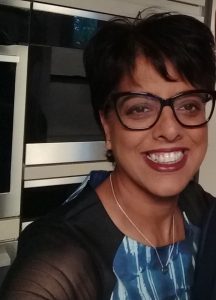 On a typical day…
Every day is different– my job includes: chairing meetings supporting the quality improvement of services, speaking to individual complainants who are not happy with the care they have received, assessing the impact of new services for patients , managing patient safety risks and concerns raised by the CQC or patients and their families, supporting the development of new service models and new ways of delivering care
Tell us how you have made a difference as a nurse or midwife
I am passionate about making sure all people have access to good high-quality care based on their needs. I have worked very hard over the last 30 years to help improve care for our BAME population. This has included working with others on making sure we challenge inequality in health care, improving the pathways for patients and improving awareness of inequality.
I am also committed to improving professional standards and making sure that nurse revalidation provides the bedrock for helping us think about how we deliver care, working on delivering excellent evidence-based care and learning from research, learning from our mistakes and remaining compassionate and caring in the work we do.
What inspired you to go into nursing/midwifery? What would you say to a young person interested in a career in nursing & midwifery?
As a young girl growing up in a multicultural society I watched my parents trying to navigate a complex health care system without the benefit of being to communicate in English. I frequently acted as interpreter and became acutely aware of the vulnerability of service users and the importance of seeing things through the eyes of people receiving care.
I think I decided very early on that I wanted to be part of the change needed to make the journey through healthcare for users a positive one and so I went into nursing and never looked back!
Have you won any awards or recognitions for your nursing or midwifery role?
I was amazed and delighted to receive an MBE for services to nursing and patient care in the new year honours list this year
Tell us your funniest or amusing work-related story or anecdote / most memorable moment
One of my most memorable moments I think was being told off by the ward sister in my first ever week on the ward for being too bossy! I cried my eyes out and thought it was the end of my career until my tutor saved me and told me it was a sign I'd be a great leader in the future- thank you Ms Nearey!!
I also got married in the Leicester Royal infirmary Chapel 30 years ago – it's been demolished now but we were only the 2nd couple in its history to ever marry there!!