NHS England optometry adviser named Optometrist of the Year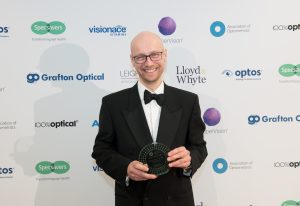 Leeds-based optometrist Steve Clark has been be named Optometrist of the Year 2018 by the Association of Optometrists (AOP).
The AOP Awards, now in its seventh year, recognises the
highest levels of achievement in UK optics. The Optometrist of the Year award celebrates practitioners who have combined a commitment to patient care with proven hands-on clinical expertise while also playing a key role in initiatives designed to support the profession.
Steve currently works between three roles, as NHS England's Optometry Adviser and Local Eye Health Network chair for West Yorkshire and Harrogate, as an optometrist at a practice in Harrogate and visiting patients in their homes when they can't get to an optician.
He also volunteers for charity Vision Care for Homeless People, providing much-needed eye care for homeless people in Leeds from a clinic based in St George's Crypt, with plans to open more sites, including in Bradford.
Commenting on his success, Steve said: "It feels very humbling to be acknowledged for making a difference. Fortunately, I'm lucky enough to work with some fantastic people in West Yorkshire and Harrogate who come together to make a change and improve eye care for patients.
"I'm passionate about eye care, and in the future I will continue to work with all eye health care professionals to get quality eye care delivered nearer to people's homes and help reduce the pressure on hospital eye departments."