Say Thank You Together for the NHS Birthday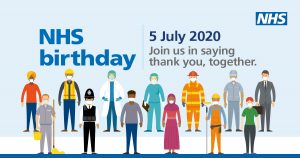 This year has been the most challenging year in NHS history. Those challenges would have been made all but impossible without the help and support of countless individuals and organisations around the country and across the South West.
On Sunday 5 July, the day the NHS was founded, the whole country is invited to come together at 5pm and applaud the commitment, courage and sacrifice shown by so many.
Please join us in saying #ThankYouTogether and share your messages of thanks with us on Twitter by tagging @NHSEnglandSW in to your tweets.
Join the NHS
Staff at every level of our NHS have gone above and beyond in recent months to care for our friends, families and loved ones, as well as each other. For the #NHSBirthday — find out how you could make a difference to the lives of others.
Join us. www.healthcareers.nhs.uk
Meet some of our inspirational people from across the South West:
Jill Crook
Role: Director of Nursing Professional and system development
Location: NHS England and NHS Improvement – South West
Rosie Luce
Role: Assistant Director for Quality and Safeguarding
Location: NHS England and NHS Improvement – South West
Bernadette Edwards
Role:Assistant Director of Nursing Professional and System Development South West and Head of Quality CHC South East
Location: NHS England and NHS Improvement – South West
Graham Carr
Role: Regional Strategic Case Manager
Location: NHS England and NHS Improvement South West
Amanda Clements
Role: Interim Hepatology Nurse Consultant / advanced clinical practitioner, South West Liver Unit 
Location: University Hospitals Plymouth NHS Trust 
Rachel Hughes
Role: Deputy Head of Nursing  
Location: Bristol Royal Hospital for Children United Hospitals Bristol NHS Foundation Trust 
Li-Wang
Role: Junior Sister 
Location: Taunton and Somerset NHS Foundation Trust 
Sarah Tiley
Role: Practice nurse 
Location: St Thomas Healthcare Centre, Exeter 
Shona Cornish
Role: Community Modern Matron
Location: Livewell Southwest   
Charlotte Fellows
Role: Immunisation Nurse for the Somerset SAINT (School Aged Immunisation Nursing Team) 
Location: Taunton and Somerset NHS Foundation Trust 
Lucy Compiani
Role: LAC Nurse-Looked After Children's Health Team
Location: Looked after Children's Health Team, Dorset
Paul Bolton
Role: Lead Nurse Infection Prevention and Control
Location: Poole Hospital NHS Foundation Trust
David Thomas
Role: Lead TB Specialist Nurse
Location: Royal Bournemouth and Christchurch Hospitals NHS Foundation Trust
Lucy Foot
Role: Purbeck Ward Sister
Location: Dorset County Hospital
Vanessa Crossey and Stephanie Rayner
Role: Vanessa Crossey QN, Head of Nursing and Quality, and Stephanie Rayner, Primary
Care Nurse Lead for Devon CCG and former military nurses
Location: Devon Clinical Commissioning Group